UAC of Nigeria Plc saw its profit after tax dip by 41.7% in the first quarter of 2021 despite recording a 12.7% rise in revenue within the period, according to the Financial Results for the three months ended 31 March 2021, released by the company.
Revenue grew by 12.7% to ₦22.0 billion in Q1 2021, from N19.55 billion in Q1 2020, driven by sales growth in the Animal Feeds & Other Edibles segment and the Packaged Food & Beverages segment.
Animal feeds and other edibles account for over 60% of the total revenue. The revenue from this segment increased by 12.7% to N14.02 billion from N12.43 billion recorded in Q1 2020.
Packaged Food & Beverages segment (+25.1% YoY) and the Quick Service Restaurant segment (+21.0% YoY). Revenue in the Paints segment was 4.9% lower YoY.
Gross profit dropped by 5.2% to N4.0 billion from N4.23 billion in Q1 2020 due to rising raw material prices and supply chain disruptions according to the company.
Read also: Q1 2021: Cadbury Nigeria Plc profit falls 62% despite increase in revenue
The Operating profit rose by 0.8% to ₦1.14 billion from N1.13 billion supported by cost management efforts and an increase in the 'other operating income' which increased to N164 million in Q1 2021 from N85 million in Q1 2020. Operating expenses in Q1 2021 were 6.1% lower than the same period last year.
Profit after tax from continuing operations dropped by 41.7% to ₦669 million, from ₦1.15 billion in Q1 2020.
The earnings per share from continuing operations was 12 kobo, 56% lower than 27 kobo recorded in Q1 2020.
In Q1 2020, UAC recorded ₦717 million from discontinued operations, but the company did record any income from that category in Q1 2021.
The equity price of UAC of Nigeria Plc closed 2.83% down on Friday at N10.30 per share. YTD the share price is over 40%.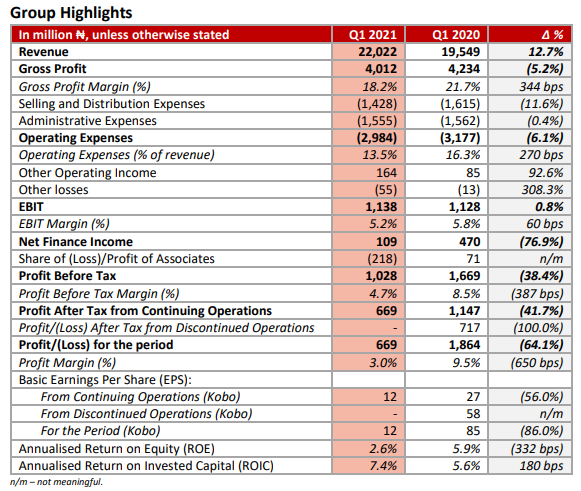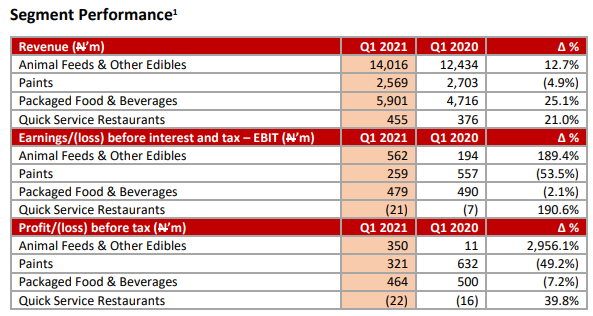 Corporate actions during the period under review
On 31 March 2021, UAC announced the decision of the Board of Directors to unbundle the Company's 24.34% interest in UPDC Real Estate Investment Trust (UPDC REIT) to UAC's shareholders. The transfer of UPDC REIT units to UAC's shareholders will be implemented through a Scheme of Arrangement under Section 715 of the Companies and Allied Matters Act, 2020 as amended (CAMA) incorporating a reduction in share capital under Section 131 of CAMA. The proposal is subject to the review and approval of regulators, UAC shareholders at a court-ordered meeting, as well as the sanction of the court.
Update: Regulatory review of the proposed unbundling is currently ongoing and further updates will be communicated as they arise according to the company. Shareholders and the investing public are also advised to exercise caution when dealing in the securities of UAC and UPDC REIT.
UAC of Nigeria Plc is a holding company with subsidiary and associate companies operating in the Animal Feeds and Other Edibles; Paints; Packaged Food and Beverages; Quick Service Restaurants; Logistics and Real Estate segments. UACN has played a prominent role in Nigeria's development for over a century. The company is focused on building its businesses into leaders in their chosen segments.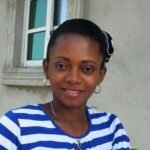 Ifunanya Ikueze is an Engineer, Safety Professional, Writer, Investor, Entrepreneur and Educator.