FBN Holdings Plc (NGX Ticker: FBNH) has debunked media reports on 22nd October purporting that a certain individual has acquired significant shareholding interest in FBN Holdings Plc, acquisitions that made him the majority shareholder in the Company.
This was contained in a statement released by the bank, signed by the Company Secretary Seye Kosoko and released to the Nigerian Exchange Limited and the Investing Public.
In a media report titles "Billionaire investor, Femi Otedola now majority shareholder of FBNH", Nairametrics stated;
Nairametrics can reliably confirm that an entity owned by billionaire investor and charismatic personality Femi Otedola, is behind a massive mop-up of the shares of FBN Holding, one of Nigeria's tier one banks.
Several news making the rounds for some time now hinted that Billionaire Investor, Femi Otedola has been acquiring shares of FBNH. It was not until yesterday that this rumour formally made it to the news platforms.
In its notification, FBNH went further to explain that given that the Bank's shares are publicly traded, such transactions as being reported will be notified to the Exchange and the Investing public.
As a listed Company, the shares of FBNH Holdings Plc are publicly traded, and sale and acquisition of shares is expected in the normal course of business. We operate in a regulated environment, which requires notification of significant shareholding by Shareholders to the Company, where shares are held in different vehicles, further to which the Company will notify the regulators and the public as appropriate.

The Company is yet to receive any notification from the individual mentioned in the media report of such acquisitions. FBN Holdings will always notify the appropriate agencies and authorities whenever it receives any notice of significant shareholding by the Shareholders and the Company's Registrars.
In its report, Nairametrics stated, "Nairametrics understands Mr Otedola has been acquiring the shares of the bank through a vehicle, Calvados Global Services Ltd. It is also likely that there could be other vehicles associated with Mr Otedola who may have also been mopping up shares."
WHAT DOES THE RULES SAY?
According to Rule 17.12 of NGX Exchange Limited: Disclosure of Significant Occurrence
An Issuer shall without any delay, announce via The Exchange's Issuers' portal any significant occurrence concerning publicly disclosed inside information after these events occur.
By its notification on 22nd October, FBNH stated that it has no information on any such significant occurrence.
According to Rule 17.13 of NGX Exchange Limited: Disclosure of Changes in Beneficial Ownership of Shares
Every Issuer shall notify The Exchange immediately on any transaction that bring the beneficial ownership in the company's shares to five per-cent (5%) or more not later than ten (10) business days after such transaction.
In the words of FBNH "The Company is yet to receive any notification from the individual mentioned in media report of such acquisitions", Nairametrics reports that such notification is emminent.
According to Rule 17.14 of NGX Exchange Limited: Disclosure in the Annual Report of Shareholding
Every Issuer shall disclose in its Annual Report the details of shareholders holding five percent (5%) or more in the company.
The latest audited annual account of FBN Holdings does not have any shareholder with up to 5% of the ownership of the bank.
HAS THERE BEEN ANY MOVEMENT IN FBNH SHARE PRICES?
FBN Holdings Plc Shares gained 1.24% or 15kobo on Friday, 22nd October 2021 to close at N12.10.
Starting from 22nd September 2021, the share price has risen from N7.50 where it had more or less flatlined for months before then, to its closing price on Friday.
This is an astonishing  61.33% capital gain on the stock, putting it well above ACCESS and UBA Share prices.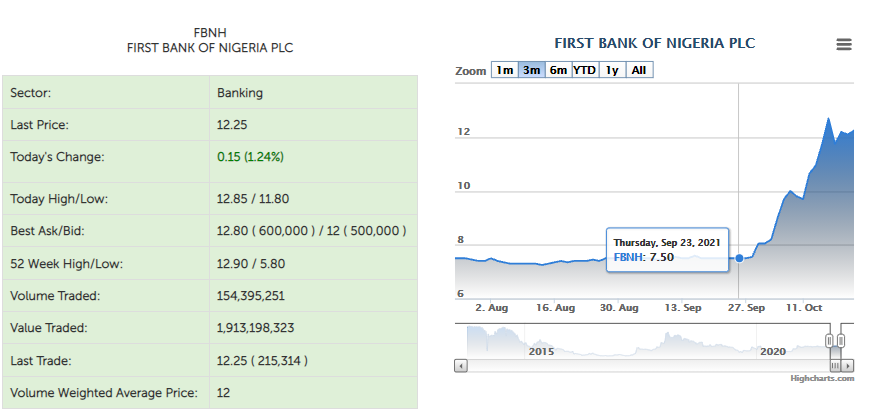 Source: Mytradebook
ABOUT THE COMPANY
First Bank of Nigeria Limited , established in 1894, founded by Sir Alfred Jones, a shipping magnate from Liverpool, England. With its head office originally in Liverpool, the Bank commenced business on a modest scale in Lagos, Nigeria under the name, Bank of British West Africa (BBWA).
In 1912, the Bank acquired its first competitor, the Bank of Nigeria (previously called Anglo-African Bank) which was established in 1899 by the Royal Niger Company.
In 1957, the Bank changed its name from Bank of British West Africa (BBWA) to Bank of West Africa (BWA).
In 1966, following its merger with Standard Bank, UK, the Bank adopted the name Standard Bank of West Africa Limited and in 1969 it was incorporated locally as the Standard Bank of Nigeria Limited in line with the Companies Decree of 1968.
Changes in the name of the Bank also occurred in 1979 and 1991 to First Bank of Nigeria Limited and First Bank of Nigeria Plc, respectively.
In 2012, the Bank changed its name again to FirstBank of Nigeria Limited as part of a restructuring resulting in FBN Holdings Plc ("FBN Holdings"), having detached its commercial business from other businesses in the FirstBank Group, in compliance with the new regulation by the Central Bank of Nigeria (CBN).
The Registered office address of the Company is at 35 Marina, Samuel Asabia House, Lagos Nigeria.
The Principal activities of the Group are mainly the provision of commercial banking services, investment banking services, and provision of other financial services and corporate banking.
FBNH was listed on the Nigerian Exchange Limited on 26th November, 2021. It has 35.89 billion outstanding shares and a market capitalization of N439.71 billion.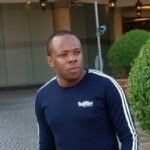 Nnamdi Maduakor is a Writer, Investor and Entrepreneur