News that broke in the late hours of Wednesday, 1st December 2021, says that the detained leader of the Indigenous People of Biafra (IPOB), Mazi Nnamdi Kanu may be released on Bail on Thursday 2nd December 2021.
The IPOB leader is said to have been arrested in Kenya, and extraordinarily renditioned to Nigeria in June 2021.
Njenje media reported on Wednesday, 1st December 2021, that The Federal High Court Abuja has scheduled Mazi Nnamdi Kanu, the leader of the proscribed Indigenous People of Biafra (IPOB), for an emergency hearing tomorrow, Thursday, 2nd of December 2021.
Read also; Court Dismisses Suit Challenging Soludo's Election, Orders Plantiffs to pay N6mn damages
The media house went further to report that it had reached out to the legal counsel of Mazi Nnamdi Kanu, and they confirmed that "there is hearing tomorrow."
According to one of the news sources sighted by Investogist,
"Nnamdi Kanu scheduled for an emergency hearing tomorrow that could lead to his release on bail. This is responding to Igbo elders' request for his release".
President Muhammadu Buhari (PMB) had, on Friday, November 19, promised to consider the unconditional release of the IPOB leader as sought by elder statesmen from the South-East.
Though PMB considered the elders' request a difficult option to weigh, but he assured that he would give it a thought.
The promise was made by PMB while receiving a group under the aegis of Highly Respected Igbo Greats, led by First Republic parliamentarian and Minister of Aviation, Mbazulike Amaechi, at State House, Abuja, earlier in November.
During their meeting with the president, Amaechi described the situation in the South-East as "painful and pathetic," lamenting that businesses have collapsed, education crumbling, and fear everywhere.
Chief Mbazurike Amaechi at the meeting had appealed for a political, rather than military solution, promising that as the only First Republic Minister still alive, he would bring the whole situation under control if Kanu happens to be released to him.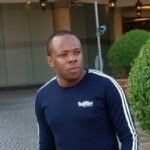 Nnamdi Maduakor is a Writer, Investor and Entrepreneur