Jaiz Bank Plc (NGX Ticker: JAIZBANK) has announced the formal signing of a US$25mn Line of Finance (LOF) agreement with the Islamic Corporation for the Development of the Private Sector (ICD).
In the publication seen by Investogist, JAIZBANK stated that LOF from the ICD was secured in February 2021 for onward disbursement to eligible Small and Medium Enterprises (SMEs) in Nigeria.
It went further to state that the signing ceremony could not hold at the time due to COVID-19 restrictions.
The formal agreement was signed recently on September 2, 2021 during the just concluded Islamic Development Bank (IsDB) annual meeting (in Tashkent, Uzbekistan) in which the Chief Executives of both organizations were in attendance, and therefore took the opportunity to formalize the agreement.
Read also; MTN Nigeria pays NCC N71.97 billion to renew its licences for 10 years
JAIZBANK has been in partnership with the ICD since 2018 when it was granted a US$20mn Line of Finance to support Small and Medium Enterprises (SMEs) in Nigeria. The Line was fully utilized by eligible SME's with a substantial portion going to Agricultural sector according to the Bank.
About ICD
The Islamic Corporation for the Development of the Private Sector (ICD) is a multilateral development financial institution and is part of the Islamic Development Bank (IsDB) Group.
ICD was established in November 1999 to support the economic development of its member countries through the provision of finance for private sector projects, promoting competition and entrepreneurship, providing advisory services to the governments and private companies and encouraging cross border investments.
About JAIZBANK
Jaiz Bank Plc is the first fully fledged non-interest financial institution in Nigeria. The Bank was granted a banking license to carry on the business of non interest banking and commenced operation on January 6th, 2012 with three branches in two states and the Federal Capital Territory.
It was established as a private limited liability Company but was converted to a Public limited liability company in April 2016 and now trades its Stock on the Nigeria Stock Exchange.
The address of the Bank's registered office is Kano House, Plot 73, Ralph Shodeinde Street, Central Business District, and Abuja, Nigeria.
JAIZBANK has 29.464,249,300 outstanding shares and a market capitalization of N17.67 billion. At the end of trading on Thursday 9th September 2021, the share price of the bank closed flat at N0.60.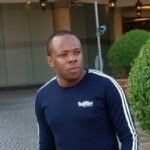 Nnamdi Maduakor is a Writer, Investor and Entrepreneur