Honeywell Flour Mills Plc (NGX: HONYFLOUR) has given a positive outlook for its business despite its recent financial statement wherein a loss of N2.4 billion was reported and the challenging market conditions.
The outlook was contained in a press release by the foods manufacturer signed by the Company Secretary, Osomomen L. Olukoya.
In it's interim financial statements for the 1st quarter ended June 30, 2022 HONYFLOUR reported a revenue of N40.6bn for 2023 financial year, a 23% growth compared to the N33.0bn recorded i the corresponding quarter of 2022.
Have you read? FG confirms N1.4bn donation to Niger Republic to procure vehicles
Despite the revenue growth, it reported a loss of N2.4bn for the period compared to a profit of N150m in the corresponding quarter of 2022.
The company said that the quarter reflected the impact of the unprecedented socio-economic environment and global inflationary strains. It went further to say that these market disruptions led to incessant increases in input costs, particularly of wheat and diesel which pushed up prices of the company's products relative to locally produced substitutes. HONYFLOUR says it expects to be earnings and margin accretive during the latter part of this year.
A review of the interim reports by Analysts at Investogist, shows that while the company brought in a revenue of N40.67bn in the quarter, it incurred a cost of sales amounting to N39.77bn, this is significantly higher than the N29.38bn cost of sales incurred in the corresponding period of last financial year.
Its gross profit thus dropped from N3.67bn with a gross profit margin of 11.12% to N896m with a meagre gross profit margin of 2.20%.
Selling and administration expenses of N1.77bn (Q1 2022: N2.05bn) and Finance cost of N1.45bn (Q1 2022: N1.42bn) condemned the company to a Loss before tax of N2.19bn, compared a profit of N220m in Q1 2022.
Following the company's acquisition by Flour Mills of Nigeria Plc (NGX: FLOURMILL), HONYFLOUR believes  it is now poised to become a robust Nigerian food processing entity that can better leverage financial, technical, and human resources as part of Nigeria's largest foods company.
Speaking on the plans in place by the company to ensure that the HONYFLOUR continues to maintain market relevance, Nassib Raffoul, the Managing Director of the company commented:
We are confident that our performance in the second quarter of the year will record significant improvement. We are deploying measures to cushion the effect of the exacerbating input prices while also strengthening and expanding our business portfolio by accessing new markets and driving margin improvement through operational efficiency.

We will continue to execute our five core strategic pillars through three (3) key drivers of growth, efficiency, and capability. And with consumer behavior evolving faster than ever, we are adapting to this new reality by executing with speed to meet the needs of our multiple stakeholders.

We are committed to investing in our capabilities, know-how and talents to continue to create value.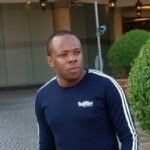 Nnamdi Maduakor is a Writer, Investor and Entrepreneur