In a fast developing brawl over a world-first law being introduced in Australia, Google has threatened to remove its search engine from the country. In a swift response, Australian PM Scott Morrison said that Australian lawmakers would not yield to "threat".
Australia is introducing a world-first law to make Google, Facebook and potentially other tech companies pay media outlets for their news content. The U.S. firms have fought back, warning the law would make them withdraw some of their services.
Australia's code would tie Google and Facebook to mediated negotiations with publishers over the value of news content, if no agreement could be reached first.  The proposed news code is seen as a possible global test case for how governments could seek to regulate big tech firms.
Read also; U.S. President Joe Biden lifts visa ban on Nigeria and others
Google Australia managing director Mel Silva told a Senate hearing on Friday that the laws were "unworkable".
"If this version of the code were to become law, it would give us no real choice but to stop making Google Search available in Australia," she said.
She went on to say, "That would be a bad outcome for us but also for the Australian people, media diversity and the small businesses who use our products every day."
Specifically, Google says that the requirement to pay publishers for links and snippets in its search engine would produce too much risk for the business to continue operating it in Australia.
While Silva explained that this was the "worst case situation", she said "we like any rational business need to assess the impact of any legislative change on our business."
"This provision in the code would set an untenable precedent for our businesses and the digital economy. It's not compatible with how search engines work or how the internet works."
But lawmakers challenged this, accusing Google of "blackmail" and bullying Australia for raising the reform.
"It's going to go worldwide. Are you going to pull out of every market, are you? Is this about stopping the precedence?" asked Senator Rex Patrick.
Mr Morrison said his government remained committed to progressing the laws through parliament this year.
"Let me be clear: Australia makes our rules for things you can do in Australia. That's done in our parliament," he told reporters on Friday.
Facebook Australia managing director Will Easton has slammed the code as "unworkable" and repeated threats to pull news from its platform.
"We would no longer be able to provide news as part of the Facebook product," Simon Milner, Facebook Asia Pacific vice president of public policy, said.
"That is not what we want to do but we have explained it is something we have to seriously consider."
Facebook and Google are not alone in their criticisms. Tim Berners-Lee, the inventor of the World Wide Web, weighed in this week, saying the code's provision for payment for links would "undermine the fundamental principle of the ability to link freely on the web".
While Berners-Lee didn't oppose the code outright, he unequivocally urged that the committee "remove this mechanism from the code."
At the heart of the legislation lies the question of profit wrote Business Insider, with the code intended to compensate publishers for a deteriorating revenue model.
Have you read this? Age Grade Football as Investment in Human Capital (1)
Unsurprisingly, Google was promptly questioned over its tax obligations in Australia.
Liberal Senator Andrew Bragg emphasised the fact that Australia puts a relatively "light" regulatory burden on Google currently, with the tech company paying just $59 million on $4 billion worth of revenue, or less than 1.5%.
Greens senator Sarah Hanson young followed up.
"You don't really pay that much tax in Australia given the massive market share you've got," she told Silva. "Would Google commit to paying more tax?"
Silva said that hadn't been proposed before as an alternative but that Google does pay a digital services tax elsewhere, albeit not in Australia.
Last year, Google came to a $481 million settlement with the Australian Taxation Office (ATO) to finalise a decade-long dispute over its tax affairs.
On Thursday, Google signed a deal with French publishers agreeing to pay them for news content under new European Union copyright rules.
While the French deal is distinct to Australia's bargaining code, there are some similarities.
It too is an effort to reimburse publishers for lost revenue which has increasingly flowed to large multinational tech companies.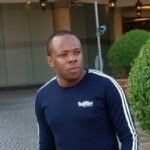 Nnamdi Maduakor is a Writer, Investor and Entrepreneur