Head of Russia's state energy giant Gazprom, Alexey Miller has stated that in the current global economic circumstances, with commodities becoming more valuable than money, it will now be a case of "our product, our rules."
Alexey Miller was speaking on Thursday at the ongoing St Petersburg International Economic Forum, where he highlighted that the world economy is experiencing a global tectonic shift with new economic rules emerging.
"Russia will determine the contour of the new economic structure of the world," Miller said.
"The game of nominal value of money is over, as this system does not allow to control the supply of resources," Miller said during a panel discussion at the event. "Our product, our rules. We don't play by the rules we didn't create," he added.
Also read; Peter Obi: Enugu Diocese dissociates self from Mbaka
Speaking about Europe's decision to reduce natural gas reliance on Russia, he said that Gazprom doesn't "hold a grudge" as gas prices have risen "several times" and, coupled with increasing exports to Asian countries, that has helped Russia make up for the loss in exports.
This year marks the 25th anniversary of the St. Petersburg International Economic Forum (SPIEF). The SPIEF Investment & Business Expo exhibition is held as part of the St. Petersburg International Economic Forum.
In a statement to participants, organizers and guests of the forum, Russia's President Vladimir Putin wrote that he was confident hat for Russia the 2020s will become a period when the country strengthens its economic sovereignty, which involves the accelerated development of its infrastructure and technological base, qualitative upgrades in the level of training for specialists, as well as the establishment of an independent and efficient financial system.
Participants at the Forum include Russian and foreign politicians, scientists and entrepreneurs, focus on a variety of topics concerning the domestic and world economy: from specific areas of industrial cooperation to information security and environmental protection.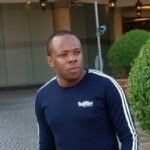 Nnamdi Maduakor is a Writer, Investor and Entrepreneur