The amount that the Federal Government of Nigeria (FGN) spends on debt service has been on steady increase. Debt service has more than doubled in the past five years, from N1.06 trillion spent in 2015 to N2.45 trillion spent in 2019.
Even though the Debt Management Office (DMO) has consistently said that Nigerian debt is within manageable range in terms debt-to-GDP ratio, Nigeria is on the path to debt crisis considering that 99.217% of the FGN retained revenue in Q1 2020 was used for debt service.
In the past five years, from 2015 to 2019, FGN has spent N8.55 trillion on debt service. Within this period of 5 years, FGN actual revenue was N16.45 trillion.
This implies that the Federal Government of Nigeria on average spent 51.96% of its revenue on debt service alone.
Read also; Nigeria records highest inflation in over two years
In 2019, FGN's actual revenue totaled N4.12 trillion, while debt service gulped N2.45 trillion representing 59.36% of its revenue. Whereas only 28.28% of FG revenue was spent on capital Expenditure in 2019.
This is according to the Medium-Term Expenditure Framework and Fiscal Strategy (MTEF/FSP) report released by the Federal Ministry of Finance, Budget, and National Planning.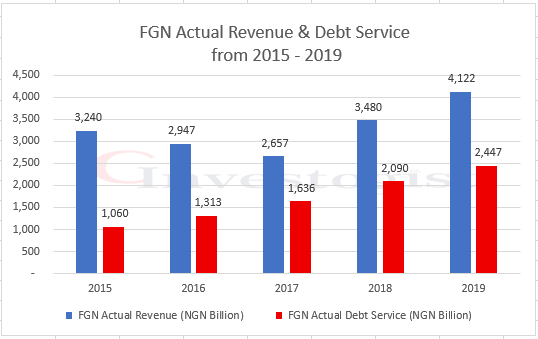 Data source: BudgIT (2015 – 2018), (MTEF/FSP) report (2019)
As at December 2019, Nigeria's total public debt stood at N27.401 trillion ($84.053 billion). Federal Government accounted for 79.58% of the total public debt while States & FCT accounted for the rest, 20.42% according to Debt Management Office
Thus, the FG debt portfolio was N21.807 trillion ($66.892 billion) at the end of 2019.
FGN debt portfolio has continued to increase at an alarming rate. It is apparent that Nigeria revenue is declining in 2020 due to the fall in oil prices and the economic crisis due to Covid-19 pandemic, whereas the debt portfolio is rising.
The President of the Senate Ahmad Lawan on Thursday 11 June, said that the senate approved $28 billion (N10.08 trillion) external debt for Federal Government in the past 1 year.
In the recently passed 2020 revised budget, N2.951 trillion (27.31%) was allotted for debt servicing, N4.938 trillion (45.7%) was allotted to recurrent (non-debt) expenditure.
Read also; The current situation is not sustainable: Ndume
This implies that Debt servicing and recurrent expenses will gulp over 73% of the budget, which will be mainly financed by loans. The budget deficit was estimated at N4.17 trillion
Written by;
Ifunanya Ikueze