The number of confirmed Covid-19 cases in Nigeria increased by 501 on Saturday, as reported by the NCDC, bringing the total confirmed cases in the country to 15,682. The death toll increased by 8 to 407. A total of 5,101 persons have recovered from the virus in Nigeria.
Details of the new cases confirmed across 23 states and FCT are as follows; Lagos-195, FCT-50, Kano-42, Kaduna-27, Edo-26, Oyo-22, Imo-21, Gombe-17, Benue-12, Enugu-12, Delta-11, Anambra-11, Ebonyi-10, Nasarawa-9, Ogun-9, Bauchi-8, Kebbi-4, Akwa Ibom-3, Jigawa-3, Katsina-3, Yobe-2, Borno-2, Kwara-1, and Ondo-1.
Total of 90,464 samples have been tested for Covid-19 in Nigeria, since the outbreak began in a population of over 200 million.
Ten states with largest number of confirmed cases in Nigeria are;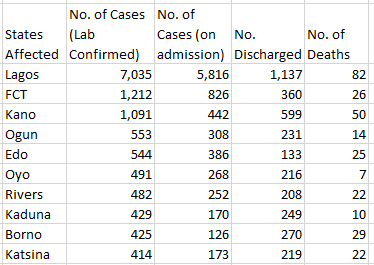 Total of 226,034 cases have been confirmed in Africa with 103,323 recoveries and 6,070 deaths.
According to NCDC, "If you have COUGH or FEVER & 1 of these symptoms"
"*Loss of taste/smell *Difficulty breathing *Diarrhea *Catarrh *Fatigue *Shivering *Body pain *Headache *Sore throat"
"Please call your state hotline for advice"
The Committee on Economic Sustainability Plan, led by Vice-President Yemi Osinbajo, said about 39.4 million people could be jobless by the end of 2020 if government fails to act.
The team charged with developing Nigeria's economic recovery plan from the coronavirus pandemic says restrictions imposed to prevent the spread of coronavirus had mainly affected agriculture, manufacturing and tourism sectors.
It said the dip in the nation's oil earnings would result in a $473m (£375m) shortfall every month.
Read more; Reps Pass Increased 2020 Budget of N10.805 trillion, Approves $5.51 billion New Borrowing
Osagie Ehanire, Nigeria`s Minister of Health, said  that global experience indicates that 45% of persons who test positive for COVID-19 may show no symptoms or are asymptomatic.
He said this during daily Presidential Task Force briefing, he also disclosed that the proportion of asymptomatic cases compared to symptomatic cases in Nigeria is 61% to 35%.
"Research also shows that most people who contract the virus develop mild symptoms or do not experience any symptoms at all."
"However, asymptomatic patients may no longer be infectious after 14 days, even if PCR test identifies RNA evidence of the virus in them", said the Minister.
He added that asymptomatic patients are most infectious and can transmit the virus even if they do not look or feel ill. This situation, he said, may explain the initial relatively high rate of infections among the health workers.
This fact about asymptomatic patients transmitting the virus has been confirmed by several scientists around the world including WHO and U.S CDC. Thus, the necessity for wearing of masks and social distancing.
Evacuation; Stranded Nigerians in India landed in Nigeria (103 in Lagos, 166 in Abuja) on Saturday 13th June 2020, about 2am, after a few hours of delay according to Nigerians in Diaspora Commission
All Evacuees are now on Compulsory 14 days self isolation according to the new Protocol By the Presidential Task Force on Covid-19.
All tested negative before boarding and are to be re-tested within 72 hours at an NCDC designated testing center.
Read more; Over N164 Mn used for Managing Affairs of Evacuated Nigerians: PTF
In Plateau state, the state Commissioner for Health, Dr Nimkong Lar, on Thursday said the government was probing the strange deaths being recorded in Jos communities.
There have been reports that over 100 corpses from various communities in the area were buried at the Zaria Road and Naraguta cemeteries in the last six weeks.
"Many people have actually died and the deaths are something we cannot explain" said one resident in Dilimi community. The has confirmed 148 cases with 106 recoveries and 3 deaths in Plateau state.
This similar incident occurred in Kano state where 979  mysterious deaths were recorded in 5 weeks. With 50% – 60% of the deaths related to Covid-19 according to Minister of Health, Osagie Ehanire.
Cases of mysterious deaths have also been reported in Bonny Island which led to the confirmation of the first Covid-19 cases in the Island on 30 May.
In Gombe State, Deputy Speaker of the State House of Assembly, Siddi Buba, has tested positive for coronavirus. He assumed office after the impeachment of Haruna Adamu in 2019.
Buba is the sixth lawmaker to test positive after the speaker and four others had earlier tested positive for the virus. The state has recorded 337 confirmed cases of the virus, with 139 recoveries and 12 deaths.
Read also; CBN to Provide up to N500 Mn for Nigerian Vaccine, Drugs and Herbal Medicines
In Vietnam, the country has been praised by many countries and organizations for its handling of Covid-19 spread in the country.
With a population of 97 million, Vietnam has managed to keep its cases to just 334, with 323 recoveries and Zero death. Strategies such as rapid testing and aggressive contact tracing have kept the infection rate to a minimum.
While the healthcare systems of some wealthier countries have come close to collapsing under the strain of COVID-19, Vietnam was quick to respond and remains in control.
In its battle against coronavirus, Vietnam relied on four relatively cost-effective solutions to combat the virus, including strategic testing, contact tracing through apps and effective public communication campaigns. As well as these, it implemented a national lockdown between 1st and 22nd April.
On 11 January, after China reported the first coronavirus death, Vietnam implemented health checks at airports. All visitors had their body temperatures measured, and those with a fever, cough, chest pain or breathing difficulties were isolated for testing.
Confirmed cases, fellow passengers and crew and all their contacts were quarantined for 14 days.
The Vietnamese COVID-19 test kit was developed by scientists within a month. It is effective, affordable and fast, diagnosing suspected COVID-19 infections in just an hour. Using WHO-approved techniques, these test kits make it possible to isolate infected people and track down their contacts.
Read also; New Zealand Declares "Covid-19 Free
In China, Beijing reports two new Covid-19 cases after registering its first case in nearly two months. The cases were confirmed in the Beijing suburb of Fengtai, the local government said at a press conference on Friday after the Chinese capital reported its first new case in nearly two months.
One of the new cases has traveled to Qingdao recently while the second person has not traveled outside the city in the last weeks.
In another development, Wuhan Covid-19 whistleblower Li Wenliang's wife gave birth on Friday. The Husband had died while she was pregnant with their second child.
"Is my husband looking down on us from heaven? His last present to me was born today. I will make sure to love and care for them." She said.
Wuhan ophthalmologist Li Wenliang died in the early hours of Feb. 7 after several weeks of serious illness with Covid-19. His pregnant wife Fu Xuejie suffered bleeding and low blood pressure following news of her husband's death, resting in hospital until she had stabilised.
Li Wenliang was among doctors who were reprimanded by police for sounding alarms about the early cases of Covid-19 in China.
In the U.S, In the past week, 19 states including Texas, South Carolina, Minnesota, Utah, Arizona, North Carolina, Arkansas, Alabama, Oregon, California, Nevada and Florida have reported seven-day rolling average highs for new Covid-19 infections.
This can be largely attributed to the massive protests that erupted across the country due to the killing of George Floyd by the police. In addition to ease of lockdown and reopening beaches.
In Arkansas on Friday, Governor Asa Hutchinson, announced a record number of cases in the previous 24 hours. In Oregon, Governor Kate Brown, placed a seven-day hold on lifting on loosening social restrictions.
In Maryland, Baltimore announced that it would not be moving into phase two of planned reopening. Over 2 million cases of the virus have been confirmed in the U.S. see the table bellow.
Five Countries with the largest number of confirmed cases are;

Globally there are 7,751,747 Covid-19 cases have been confirmed with 3,679,534 recoveries and 429,062 deaths according to John Hopkins Coronavirus Resource Center.
Written by
Ifunanya Ikueze