Nigeria Center for Disease Control (NCDC) reported 490 confirmed new cases of Covid-19 and 31 new deaths in Nigeria on Tuesday. This brings the total cases in Nigeria to 17,148, out of which 5,623 have recovered with 455 deaths recorded as at 16 June 2020.
The details of the new cases are as follows; Lagos-142, FCT-60, Bayelsa-54, Rivers-39, Delta-37, Oyo-30, Kaduna-26, Imo-23, Enugu-19, Kwara-17, Gombe-11, Ondo-10, Bauchi-8, Ogun-7, Borno-6, and Benue-1.
Total of 96,402 samples have been tested for Covid-19 in Nigeria since the out break began according to NCDC.
Top ten states with the largest number of confirmed Covid-19 cases in Nigeria are;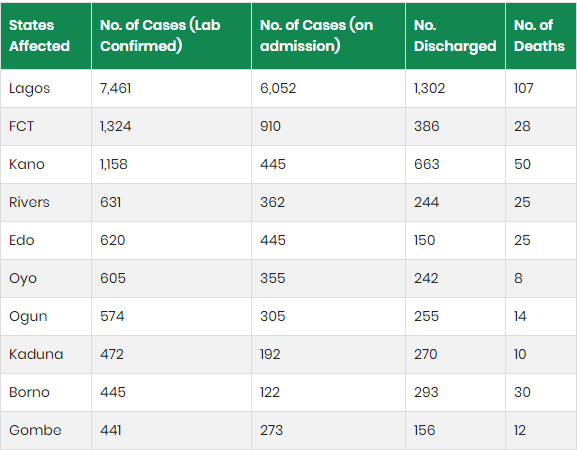 Source; NCDC
Breakthrough in Covid-19 treatment
A cheap and widely available drug around the world, Dexamethasone has been found to help save the lives of patients seriously ill with coronavirus. The drug has been termed a "major breakthrough" in the race to find treatment for the novel coronavirus by the UK experts.
The drug is part of the trial testing existing treatments to see if they also work for coronavirus.
The Recovery Trial, running since March, includes the malaria drug hydroxychloroquine, which has been found not be helpful in the treatment of Covid-19 by the U.S and UK experts.  There are also concerns that it increases fatalities and heart problems.
In the trial, led by a team from Oxford University, a total of 2,104 patients were chosen at random to receive 6mg of dexamethasone once a day (either by mouth or by intravenous injection) for 10 days. Their outcomes were compared with 4,321 patients chosen at random to continue with normal care alone.
Dexamethasone reduced deaths by one-third for patients on ventilators and by one-fifth in other patients receiving oxygen only. There was no benefit among those patients who did not need help to breathe.
The researchers said that, up to 5,000 lives could have been saved in the UK, if the dexamethasone had been available from the start of the pandemic.
About 90% of Covid-19 patients recover without being admitted to hospital. Some of those who are admitted to hospitals become very sick that they will need ventilators or Oxygen. These are the high-risk group which dexamethasone has been proven to help recover.
The drug is already used to reduce inflammation in a range of other conditions, including arthritis, asthma and some skin conditions.
And it appears to help stop some of the damage that can happen when the body's immune system goes into overdrive as it tries to fight off coronavirus.
Read also; U.S Federal Debt Tops $26 Trillion; Over 100% of GDP
UK health secretary, Matt Hancock said "this astounding breakthrough is testament to the incredible work being done by our scientists behind the scenes.
"From today the standard treatment for Covid-19 will include dexamethasone, helping save thousands of lives while we deal with this terrible virus."
UK Prime Minister Boris Johnson hailed the successful trial at Tuesday's Downing Street press conference. "Today, there is genuine cause to celebrate a remarkable British scientific achievement, and the benefits it will bring, not just in this country but around the world," the prime minister said.
However, On 24 April, dexamethasone, in the form of tablets and capsules, was added to a list of medicines that cannot be exported from the UK or hoarded.
And on Tuesday dexamethasone, in the form of oral solutions and injections, was also added to the list. But the prime minister said he wasn't aware of the ban.
The Federal Government of Nigeria has announced the conditions for the reopening of schools and tertiary institutions in the country.
Speaking at the 2020 Policy Meeting on Admissions to Tertiary Institutions in Nigeria by the Joint Admissions and Matriculation Board [JAMB] in Abuja on Tuesday, the Minister of State for Education, Chukwuemeka Nwajiuba said that "all institutions must;
Have hand-washing facilities
Conduct body temperature checks
Have body disinfectants at all entering points to their major facilities including the gates, hostels, classes, offices, etc.
The whole premises of each institution must be decontaminated and
All efforts must be geared toward maintenance of the highest level of hygiene
Ensure Social and Physical Distancing in class sizes and meeting spaces.
In Enugu state, 23 health workers have tested positive for Covid-19 in the state accordiing to the Ministry of Health on Monday. This represents more than 40% of the confirmed cases in the state at the time.
The Chairman of Enugu state chapter of Nigerian Medical Association, Dr. Ike Okwesili has called for the establishment of testing center in the state, saying that some patients might have died while waiting for test to be done or results to be out.
Having a testing center in the state will reduce testing time and waiting time, thus infected persons will be detected earlier.
19 new cases were recorded in the state, thus bringing the total number of confirmed cases to 76, with 27 recoveries and 5 deaths.
Read more; There are more Covid-19 cases out there than we've found – NCDC
In Lagos state, the state government has rolled back its earlier decision, granting partial re-opening to houses of worship across the State.
Governor Babajide Sanwo-Olu, on Tuesday, announced indefinite suspension on the order during the 15th press briefing held at the State House in Marina to give updates on Lagos Covid-19 response.
The State Government had earlier directed‪ mosques and churches to re-open from June 19 and 21 for obligatory services only.
"We have been closely monitoring the situation since then, and have now concluded that we cannot proceed with any form of re-opening for places of worship in until further notice. We are now, hereby, suspending, with immediate effect, the plan to re-open religious houses and places of worship in Lagos until further notice" Sanwo-Olu said.
In Rivers, following the record high daily number of confirmed Covid-19 cases in the state on Monday,
the State Governor Nyesom Ezenwo Wike has urged traditional rulers and opinion leaders of Bonny Kingdom to ensure that their people understand that the virus is real.
This was contained in a statement signed the state Commissioner for Information and Communications Paulinus Nsirim.
"The results of samples collected from Bonny indicate that it could be an epicentre of the pandemic in the state if a  drastic action is not taken" the statement read in part.
"It is not something our people should pretend that it does not exist. Something that has taken the world by storm and killing more than conventional warfare should be taken seriously."
Governor Wike said the State Security Council would meet on June 17, 2020 to review the situation in Bonny to consider a possible lockdown.
Read also; CBN to Provide up to N500 Mn for Nigerian Vaccine, Drugs and Herbal Medicines
In Africa, the number of confirmed cases continues to rise. Total of 252,544 have been recorded with 114,897 recoveries and 6,779 deaths according to Africa Center for Disease Control and Prevention.
Southern African region now has the largest number of confirmed cases in the continent after it overtook the Northern region. Although North Africa has recorded more deaths than the South.
Southern African region – a total of 77,255 cases have been confirmed, with 41,646 recoveries and 1,603 deaths.
Northern African region – a total of 69,720 cases have been confirmed, with 29,376 recoveries and 2,811 deaths.
Western African region – a total of 52,634 cases have been confirmed, with 23,777 recoveries and 972 deaths.
Nigeria is the worst affected country in West Africa. It has over 32% of the confirmed cases in the region, with over 43% of the deaths recorded.
In New Zealand, the run of 24 days virus-free was brought to an end by the arrival of an infected woman from the UK who tested positive to the virus.
Recall that Investogist reported on that New Zealand has declared Covid-19 free, with all domestic restriction lifted except for external borders – with only citizens and essential workers allowed in.
All arrivals are supposed to be tested for Covid-19 and have to go through a 14-day period of isolation.
However, a permission was granted to the two women to visit their sick parent in the New Zealand. The women traveled from UK to New Zealand on 7 June, via Doha and Brisbane and entered quarantine.
On 12 June they applied for an exemption to visit their dying parent – who died later that night. They were granted permission to travel to Wellington on 13 June. They traveled with private vehicle and stayed with only one family member who is now in isolation.
One of the women had "mild symptoms", but put this down to a pre-existing condition. The women were tested on Monday and the results were confirmed on Tuesday
The Health Minister David Clark said the necessary checks had not taken place and he was suspending compassionate exemptions to the quarantine rules.
Read further; The Case of Regency Assurance Insurance Plc: Merger or Recapitalization?
In France, Thousands of doctors, nurses and hospital staff in France have been protesting to demand more investment in the health system.
Like in many countries, the French public expressed their significant gratitude and support to medics during the pandemic – now health workers want this to be followed with more resources.
Around 18,000 people attended the protests in Paris, which ended with violent action by a small group who threw stones and overturned a car. Police made 20 arrests.
Unions are asking for pay rises, a recruitment drive and more beds in hospitals, and say Covid-19 exposed the weaknesses of the French health service.
President Emmanuel Macron says his government is three weeks into a consultation and has announced bonuses for staff who worked through the crisis.
France has recorded 194,347 cases with 73,459 recoveries and 29,550 deaths.
In china, recall that Investogist reported that a cluster of new cases connected to a Beijing market in China is causing serious concern.
Now all schools have been ordered to close in an effort to contain the outbreak.
The first case, linked to a market, was recorded on Thursday and cases have been rising since then. Beijing had not seen any new cases for more than 50 days before this.
Schools and universities reopened just a few weeks ago, but now classes will once again go online. Entertainment venues will also close, and people must be tested before they will be permitted to leave the capital.
China has reported 84,378 cases of Covid-19 with 79,491 recoveries and 4,636 deaths. There are concerns over the figures being reported from China. Experts have said that the actual numbers would be more what is being reported.
Globally there are 8,152,885 confirmed cases of Covid-19 with 3,942,312 recoveries and 441,407 deaths according to John Hopkins Coronavirus Resource Centre. This puts the recovery rate at 48.35% and death rate at 5.41%.
Written by;
Ifunanya Ikueze