Regency Alliance Insurance Plc (NSE TICKER: REGALINS) on Monday 15th June 2020 gave notice of its 26th Annual General Meeting (AGM) set to hold at the Regency Training Hall, in the Head Office, 2 Ebun Street, Gbagada Estate, Lagos on Monday the 6th Day of July 2020 at 11am.
The most prominent item on "Special Business" agenda is the issue of recapitalization. Shareholders will be asked to authorize the increase of the authorized share capital of the Company from N6,000,000,000.00 to N11,000,000,000.00 by the creation of 10,000,000,000 additional ordinary shares of 50kobo each ranking pari -passu in all respect with the existing shares in the Company's equity.
The Directors will be asked to raise additional capital for the Company by way of special placement, public offer with or without preferential allotment or rights issue or a combination of any of them within Nigeria or internationally.
The AGM will be streamed live on http://regencyalliance.com for shareholders, clients and other stakeholders who will not be attending the AGM physically but want to watch the proceedings.
Read also; U.S Federal Debt Tops $26 Trillion; Over 100% of GDP
Why does the company want to raise its share capital you may ask? The essence is to be able to recapitalize the company in line with the new capitalization requirement issued by the Nigerian insurance industry regulator; National Insurance Commission (NAICOM).
In order to strengthen the insurance sector, and retain a larger proportion of the local risk presently being ceded outside the country because of low retention capacity, NAICOM introduced a new Paid Up Share Capital in May, 2019.
At the outbreak of the COVID-19 Pandemic, NAICOM extended the deadline for the recapitalization of the insurance companies for the third time to September 2021. In addition, the recapitalization will be in two segments; 50% recapitalization to be achieved by December 2020, while the remaining 50% will have to be achieved by September 2021.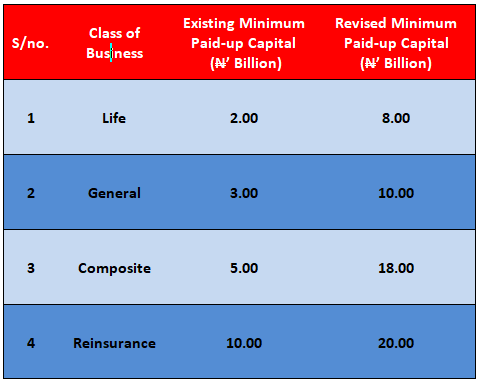 Table 1: The minimum paid up capital requirement (Source)
The new recapitalization applies to all insurance and reinsurance companies other than Takaful operators and Micro-insurance companies, and the concerned companies are required to submit their recapitalization plans which can be any of or combination of the following;
Raising of funds for the recapitalization as will be deemed fit by the company, and in compliance with applicable laws and guidelines.
Through merger with another insurance company.
Through acquisition of another insurance company.
So, Regency Assurance Insurance Plc? The Company was incorporated on the 16th day of June 1993 as a private limited liability Company known as "Regency Insurance Company Limited" and was licensed by NAICOM to underwrite all classes of Non-Life Insurance Business.
Read; NSE: Stock Pick for the Week 15th – 19th June 2020
On the 11th of March 2005, the Company was licensed to underwrite Life Insurance Business in addition to the Non-Life Insurance Business thereby becoming a composite Insurance Company.
Regency Alliance Plc emerged in February 2007 following the merger of four insurance companies in Nigeria. They are: Regency Insurance Plc, Nigerian Alliance Assurance Corporation Limited, Destiny Insurance Co. Limited and Capital Express General Insurance Limited.
The Company was re-registered and licensed to underwrite all classes of Non-Life Insurance Business. The Company's principal activity is the provision of General Insurance cover to Institutional and individual clients.
Its activity covers aviation, bonds, goods in transit, motor vehicles, employer's liability, plant and industrial all-risk, marine, oil and energy, contractor all-risk, director's liability, fidelity guaranty, professional indemnity, public liability, erection all-risk, machinery breakdown, business interruption, burglary, personal accident and fire and special perils insurance as well as occupier's and builder's liability, healthcare professional, motor third party insurance and property and family protection insurance.
Read more; Updated: AIICO Insurance Plc Offers Bonus Share and Rights Issue
With N5.76 billion in total shareholders' fund comprising of N3.33 billion of issued and paid up share capital, N1.67 billion of contingency reserve, and N0.77 billion of retained earnings according to its statement of financial position as at 31st December 2019, the company do have some way to go before it can meet the N10.00 billion revised minimum paid-up capital required for an insurance company operating in the General Insurance class.
The agenda to be put to shareholders at the 26th AGM of the company indicates that the company is opting to raise the funds to recapitalize. At the 25th AGM, shareholders' had rejected a dividend proposal 3 kobo per ordinary share proposed by the Board from the profits of the 2018 financial year, thus saving their company N200 million. This decision was undoubtedly made with the recapitalization in mind.
But, could the company go for the merger option, is there any company they could merge with to achieve the recapitalization objective? We think the answer is yes, and that company could be NEM Insurance Plc.
The two Insurance companies had merged their operations in Ghana in 2017. According to a press release by NEM Insurance Plc on March 22, 2017, the company stated that "sequel to the directive of the National Insurance Commission, Ghana for all Insurance Companies in Ghana to recapitalize, our subsidiary in Ghana, NEM Insurance Limited had to merge with another Company in Ghana, Regency Alliance Insurance Company Limited Ghana.
Further read; Nigeria Used 99% of Revenue for Debt Servicing in Q1 2020
"The merger has been successfully concluded and the emerging Company is now know as RegencyNem Insurance Limited, Ghana".
The statement of financial position of NEM Insurance Plc as at 31st March, 2019 shows that the company has a total shareholders' fund of N15.14 billion, out of which paid-up share capital and share premium accounted for N2.91 billion, while statutory contingency reserve accounted for N4.43 billion, with retained earnings accounting for N6.63 billion, the remainder was made up of a combination FVOCI, asset revaluation reserve, and other reserves.
Like Regency Alliance Insurance Plc, NEM Insurance Plc is principally engaged in the business of General Insurance activities, which include the provision of non-life insurance services for both corporate and individual customers. NEM Insurance Plc currently have 5,280,502,913 outstanding shares.
Is Regency Alliance Insurance Stock a bargain that is currently ignored by the market, poised to be valued much more than the N0.22 it is currently selling in the future? Analysts at Investogist believe it is.
Read; Beginners Guide to Stock Investment
A review of the company's financial performance over the past 9 years (2011 to 2019), shows a gradual but persistent growth in Profit After Tax (PAT). The company's PAT suffered a decline in the 2017 and 2018 financial years, understandably due to the economic recession of 2016 in the country.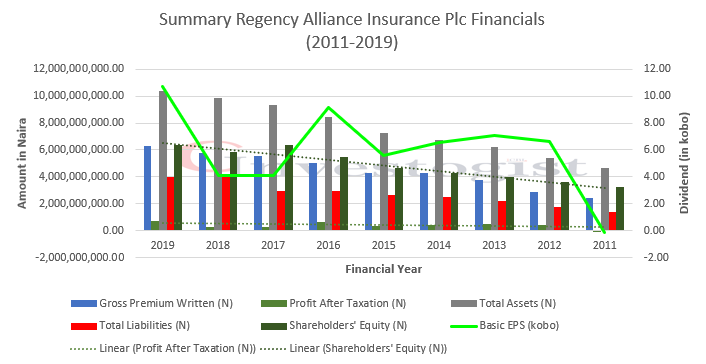 Fig 1: Summary of Regency Alliance Insurance Plc Financial Performance (2011-2019)
A detailed review of the numbers over the years, show that between 2011 and 2019;
Gross Premium written increased by 160.00% from N2.41 billion to N6.27 billion
Profit After Tax increased by 9322.31% from -N7.76 million to N716.38 million
Earnings Per Share increased by 9050% from negative to 10.74 kobo
Total Assets increased by 123.54% from N4.64 billion to N10.37 billion
Total Liabilities increased by 182.65% from N1.42 billion to N4.02 billion
Retained earnings increased by 160.41% from -N1.27 billion to N0.77 billion
A fundamental analysis of the companies latest full year financial report for the period ended 31st December 2019, show that;
REGALINS has a trailing Price to Earnings (P/E) ratio of 2.05, well below the NSE Average, and below the PE ratio of other listed Insurance companies; MANSARD 7.85, NEM 3.00, LASACO 2.47, MBENEFIT is considerably lower at 0.88
On Profit Margin for the period, REGALINS achieved a profit margin of 11.42%, a considerable improvement from the 3.63% achieved in 2018. Its profit margin was better than the 6.13% achieved by MANSARD and 7.94% achieved by LASACO, but lower than the 17.87% and 14.21% achieved by NEM and MBENEFIT respectively.
With a Price-to-Book value (PBv) of 0.23,  it is an appealing prospect when one considers that MANSARD and NEM both trading at N2.00 have PBv of 0.70 and 0.76 respectively.
In our stock pick earlier in the week, we had marked REGALINS as a BUY, and we maintain that rating today. We believe that the fair price of the stock is N0.48, although it has an inconsistent dividend history, when the company surpasses the recapitalization hurdle, it will return to its dividend payment and hence ensuring good value to shareholders.
In an unlikely, but desirable event of a merger with NEM Insurance Plc, Regency Assurance Insurance Plc will be the bargain stock of the decade on the Nigerian Stock Exchange.
Written by;
Nnamdi Maduakor