China has raised fuel prices in the country for the first time in 2020, as a result of increase in international oil prices. The country had lowered gasoline and diesel prices three times to keep them in line with slumping international oil prices.
On Monday China increased the prices of gasoline and diesel by 120 yuan ($16.96) and 110 yuan ($15.54) per ton, respectively, according to a document released on Sunday by the National Development and Reform Commission (NDRC), China's top economic planner.
According to the current pricing mechanism, China will adjust domestic prices of refined oil products when international crude prices translate into a change of more than 50 yuan ($7.06) per ton for a period of 10 working days, but will not do so if the international oil prices go below the floor of $40 or the ceiling of $130 per barrel.
The country hadn't adjusted the prices for six consecutive times since March 31 because the prices of oil had touched the floor rates, according to local media.
The recovery in oil prices is expected to continue into the second half of the year, as countries continue to open their economy.
Brent futures at the time of this report is trading at $41.86 per barrel, a 2.27% increase in price while U.S oil futures WTI is trading at $39.68 per barrel an increase of 3.09% from previous close.
However, the increasing number of Covid-19 cases in the United States, South America, Africa and some Asian countries cast a shadow on the current easing of lockdown measures.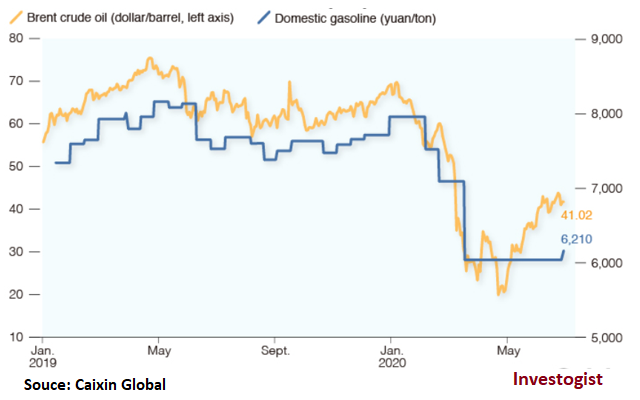 Written by;
Ifunanya Ikueze