BUA Foods Plc (NGX: BUAFOODS) has posted a turnover of N168.85 billion, for the six months ended 30th June, 2022.  Year-on-Year, the company achieved a 11.29% growth in turnover, as it added N17.12bn to its turnover of N151.73bn in H1 2021.
This is contained in the companies unaudited financial statements seen by Investogist. The Financial Statements were prepared in compliance with IAS 34 Interim Financial Reporting and relevant International Financial Reporting Standards (IFRSs) as issued by the International Accounting Standards Board (the IASB). The Financial Statements were prepared under the historical cost convention.
BUAFOODS released the Financial Statements to NGX Exchange Limited on 1st August, 2022.
Analysis of the Financial Statements
Income Statement:
Revenue: N168.85bn, compared to N151.73n earned in H1 2021, an 11.29% YoY growth. The revenues came from the sales of Sugar (Non Fortified), Sugar (Fortified), Molasses, Bakery Flour, Pasta and Wheat Bran. Sales from Sugar; N53.90bn (Non Fortified) and N54.80bn (Fortified) accounted for most of the revenue. This was followed up by Pasta and Flour, with N25.88bn and N31.41bn respectively.
Gross Profit: N52.06bn, a 1.79% increase from the N51.15bn gross profit reported in H1 2021. Its gross profit margin dropped from 33.71% to 30.83%. The cost of sales increased by 16.12% from N110.57bn to N116.78bn. The increase in cost of sales was due to an increase in raw materials cost, which went up from N84.17bn to N101.46bn.
Administrative Expenses: N1.89bn, a 93.66% YoY crash from the N4.17bn it spent in H1 2021. The massive decrease was due to the reduction in general expenses from N1.52bn to N150.62mn.
Finance Charges: BUAFOODS paid a finance charge of  N4.09bn on its borrowings, against the N4.91bn it paid in H1 2021.
Profit Before Tax: N42.70 billion, compared to N38.54 billion in H1 2021 (10.78% YoY Growth);
Profit After Tax: N39.30 billion, compared to N34.56 billion in H1 2021 (13.74% YoY Growth).
Earnings Per Share: 2.18 kobo (N1.92 in H1 2021).
Balance Sheet:
Total Assets: N645.35 billion, compared to N593.46 billion as at 31st December 2021 (8.74% Increase). Of these assets, N322.07bn is on property, plant and equipment under non-current assets, while N177.66bn was booked as current assets under "Due from Related Companies" . The company's inventories stood at N24.22 billion, while its trade and other receivables was N78.57bn. It's cash and short term deposits was N41.64bn.
Total Liabilities: N405.33 billion, compared to N392.75 million as at 31st December 2021 (14.45% Increase). BUAFOODS holds a total borrowing of N230.15bn, a 6.46% reduction from the N246.04bn it held as at 31st Dec. 2021. Trade and Other Payables rose to N43.88bn, from N38.34bn.
Shareholders' Fund: stood at N240.02 billion, a 19.58% increase from N200.71 billion as at 31st December 2021.
Retained earnings: N231.97bn, against N192.66bn, 20.40% up.
Cashflow:
Operating activities: N20.32 billion was generated from operating activities, against N20.17 billion generated in H1 2021.
Investing activities: N3.03 billion was used for investing activities, against N2.56bn in H1 2021. The company invested N3.70bn in the acquisition of property, plant and equipment.
Financing activities: N21.48 billion was used in financing activities, against N14.99 billion used in H1 2021. N42.56bn was used in the repayment of borrowings, while an additional borrowing of N26.41bn was brought in.
Cash and cash equivalents at the end of the period was N23.28 billion (H1 2021: N18.82 billion).
There was no corporate action announcement following the release of the financial statements.
About the Company
BUA Foods Plc was formed in December 2021, from a consolidation of all food businesses belonging to BUA Group.
The food businesses merged to created BUAFOODS include BUA Sugar Refinery Limited, BUA Oil Mills Limited, IRS Flour, IRS Pasta and BUA Rice Limited.
BUAFOODS facilities includes 8 ultra-modern factories (Rice/Sugar Refinery/Flour Pasta) and operates 20,000 hectares of arable land located in Lafiagi Kwara.
On Wednesday, 5 January 2022, Bua Foods Plc listed by introduction on the main board of the NGX Exchange Limited. It introduced 18 billion ordinary shares at N40.00.
The share price of BUAFOODS at the close of trading on Friday was N54.50.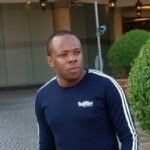 Nnamdi Maduakor is a Writer, Investor and Entrepreneur