The Central Bank of Nigeria (CBN) has stated that every banknote issued by it remains legal tender and should not be rejected by anyone, as stipulated in Section 20(5) of the CBN Act, 2007.
Also read; Workers and Pensioners in Oyo State to get cash awards – Gov. Makinde
Te Apex bank in a press release on Wednesday responded to reports of a scarcity of cash across some major cities in the country despite its assurances of sufficient cash stocks in all locations across the country.
It reiterated that there are sufficient banknotes across the country for normal economic activity.
CBN had on 2nd November issued a press release responding to the reports of alleged scarcity of cash at banks, automated teller machines (ATMs), Points of Sale and among Bureaux de Change (BDCs) in some major cities across the country.
The bank stated that its findings revealed that the seeming cash scarcity in some locations is due largely to high volume
withdrawals from the CBN branches by Deposit Money Banks (DMBs) and panic withdrawals by customers from the ATMs.
All branches of the CBN across the country have been directed to continue to issue different denominations of old and redesigned banknotes in adequate quantities to deposit money banks (DMBs) for onward circulation to bank customers.
"We wish to restate that all denominations of banknotes issued by the Central Bank of Nigeria (CBN) remain legal tender. In line with Section 20(5) of the CBN Act, 2007, no one should refuse to accept the Naira as a means of payment.

"Consequently, members of the public are advised to accept all CBN-issued banknotes currently in circulation and guard against panic withdrawals. We reaffirm that there is sufficient stock of currency notes to facilitate normal economic activities," – CBN
CBN advised the public to reduce the pressure on the use of physical cash by continuing to embrace alternative modes of payment.
The Supreme Court of Nigeria had in a judgement on March 3, 2023, ordered that the old ₦200, ₦500 and ₦1,000 remain legal tender till December 31st, 2023.
The apex court also declared that President Buhari's order on the new naira is invalid, and went further that the naira design policy was in contravention of the law.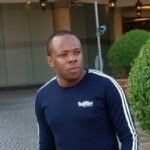 Nnamdi Maduakor is a Writer, Investor and Entrepreneur