The Africa Netpreneur Prize Initiative (ANPI) is a ten-year philanthropic initiative spearheaded by Jack Ma following his visit to Africa in 2017. The Foundation is aimed at supporting and inspiring the next generation of African entrepreneurs across all sectors, who are building a more sustainable and inclusive economy for the future of the continent.
A Netpreneur is an entrepreneur who leverages the internet and digital economy to drive growth. However, a Netpreneur does not have to be an entrepreneur running a tech-based company. A farmer leveraging the internet to access market information, market their product and monitor crops/cycles is a Netpreneur.
ANPI is on the search for African entrepreneurs who are leveraging business to create positive impact and solve pressing challenges in Africa.
The ANPI will host the "Africa's Business Heroes" for 2020 show where ten finalists will compete in a pitch competition to win a share of $1.5 million USD in grant money.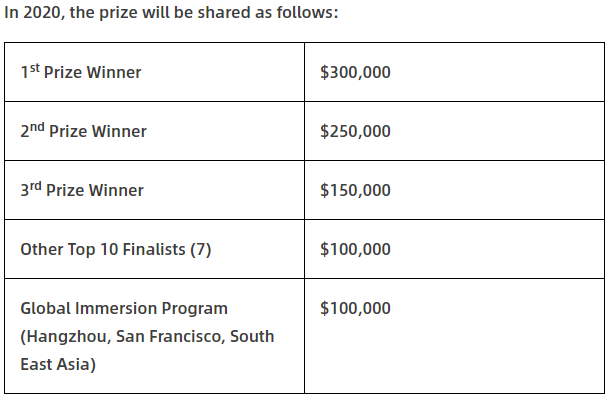 The application is open and will close on 22nd June. The top 50 winners will be announced in mid July. In early August top 20 winners will be announced with the semi-final pitch held in mid August. The top 10 finalists will be announced in September with the grand finale and summit held in the last week of November.
Read also; Building a Business based on Local content-Lessons for a would-be Entrepreneur
Beyond the grant funds, what are the benefits of this program to ANPI?
The show is distributed via major television networks, which provides our finalists with significant publicity and exposure.
Training: we offer our Heroes training at Alibaba's headquarters via the prestigious eFounders fellowship training program. In addition, we are working with partners to develop bespoke training and accelerator services for our Top 10.
Mentorship: we offer our Heroes the opportunity to be mentored by renowned business leaders including our Finale and Semi-Finale judges.
Networking: we provide our heroes the opportunity to network at the ANPI summit, ANPI Business Heroes' gatherings and deep-dives (e.g. China Trip), and through our Africa's Business Heroes exclusive platform (to be released in 2021).
Who is eligible to apply?
Africans from all 54 African countries are eligible to apply irrespective of age, industry sector or gender. However, applicants have to meet a strict set of criteria:
Applicant should be the Founder or Co-Founder of the company.
Applicant is of African origin. You have/had African citizenship and/or a parent or grandparent has African citizenship.
Company is Africa-Based. The business is registered and headquartered in an African country, and primarily operates in Africa.
Company is post-Idea stage. Business is 3 years old or more and has at least 3 years of revenue history.
Read More; Nigeria agribusiness: the export potential
Fours steps of Application
Register an ANPI account
Confirm you are eligible for the price
Submit an application & introductory video
Get a reference.
Key points
Be honest. Selected finalists will be required to submit documents proving their responses. Top 10 finalists will undergo a rigorous due diligence process.
Demonstrate your answers. Where relevant provide examples and details that will allow judges to thoroughly assess your application.
Answer all required questions. Required questions will be indicated with an asterix (*).
Be concise. Stay within the word limits.
Shoot & upload an introductory video.
Get a recommendation and ensure your referral submits it by the deadline.
The application form has 5 sections; founder profile, business profile, business dip dive, awards and recognition and video introduction
The application is free. Just set up an account to begin: Apply Now
The program was initiated in 2017 during Jack Ma's visit to Africa and in 2018, he established Africa Netpreneur Prize Initiative (ANPI) with an initial $10 million grant.
The purpose of the grant is to identify, spotlight and award grant-funding to 100 Africa's Business Heroes across Africa over the next 10 years.
However, the total price pool was increased to $100 million by Jack Ma, after the successful inaugural competition of the initiative was held in Accra Ghana in November 2019, where ten business heroes won their share of the $1 million in grant funds.
The top price winner was a Nigerian, Temie Giwa-Tubosun, the CEO of LifeBank. LifeBank is a medical distribution company that uses data and technology to help health workers discover critical medical products, and has saved thousands of life in Nigeria.
In a tweet on Wednesday she wrote "Last year, I was selected as the 1st ever Africa's Business Hero and it was a great honour. Applications have opened for the 2nd edition and I urge you to apply today! We need to inspire a new generation of problem solvers and new industrialists. Apply today!"
Omar Shoukry Sakr, Nawah Scientific won the second price. Nawah-Scientific is the first private research center in the MENA region, focused on natural and biomedical sciences, that offers analytical and scientific services online and on-demand.
Read more; How Much is the Business Worth: The Shareholders' Equity
Christelle Kwizera, Water Access Rwanda won the third price. Water Access Rwanda pioneered INUMA™️, a Safe Water Microgrid that reclaims broken boreholes and transforms them into state-of-the-art solar-powered water kiosks and pipelines. The water is sold for $1/1000L and creates off-farm jobs for youth. Currently, Water Access Rwanda employs 68 people, and allows 47,612 customers access water daily across 86 stations.
Out of the top ten winners, four were from Nigeria, in addition to the top price winner, they are;
Ayodeji Arikawe, Thrive Agric – Thrive Agric is an agricultural technology-enabled company that works with smallholder farmers to enable them get greater access to finance, as well as improve their income and harvest distribution. Today, Thrive Agric works with 22,000 farmers in Nigeria,
Chibuzo Opara, DrugStoc Ng DrugStoc is a cloud-based pharmaceutical IT and logistics platform focused on eliminating counterfeit drugs, expanding access to pharmaceutical products and improving transparency in pricing for healthcare providers and the product supply chain. Chibuzo is a health economist and medical doctor with over 12 years of experience in the health sector.
Read further; The Story of Nigeria's Foreign Trade Statistics in Q1 2020: Export Petroleum, Import Petrol
Dr.Tosan Joseph M, Black Swan Tech Ltd WeMUNIZE by Black Swan Tech Ltd is helping to solve Nigeria's public health challenges by deploying an automated scheduling, GPS-enabled Software-as-a-service that uses a combination of digital record keeping and community engagement to increase birth registration and early childhood immunizations.
For further questions, refer to the application's FAQ & Guide, if you are stuck send an email to info@africabusinessheroes.org if any questions are unclear.
Written by;
Ifunanya Ikueze