President of Ukraine, Volodymyr Zelensky has called for a ban on all Russian citizens by Western countries in response to Russia's aggression in Ukraine. The President said on Monday in a wide-ranging interview with The Washington Post in his office in Kiev that the ban is the only way to stop Russia from annexing any more of Ukraine's territory.
Zelensky said that "the most important sanctions are to close the borders, because the Russians are taking away someone else' land." He argued that Russians should "live in their own world until they change their philosophy."
Also read; Sanction Russia for "Nuclear Terror" – Zelensky
Calling the current anti-Russian sanctions "weak," Ukrainian President Zelensky said that the West must impose a full embargo on all energy imports from Russia and a travel ban on all Russians for at least a year.
Russian leaders have signaled they could hold annexation votes in the occupied parts of Ukraine's east and south — in the Kherson and Zaporizhzhia regions — on Sept. 11, alongside regional elections already scheduled to take place. Russian officials say those votes would legitimize Russia's claim to those areas, but critics say the votes would be a Russian-manipulated farce.
Secretary of State Antony Blinken and senior White House officials have warned that any attempted land grab through "sham" referendums would bring "additional costs imposed upon Russia."
Finnish Prime Minister Sanna Marin told reporters Monday that she believes issuing tourist visas to Russians should be restricted and called for a European Union-wide ban.
Some critics have argued that banning all Russians would unfairly impact those who have left their country because they disagree with President Vladimir Putin's government and his decision to attack Ukraine.
Zelensky said such distinctions don't matter: "Whichever kind of Russian … make them go to Russia."
"They'll understand then," he said. "They'll say, 'This [war] has nothing to do with us. The whole population can't be held responsible, can it?' It can. The population picked this government and they're not fighting it, not arguing with it, not shouting at it."
"Don't you want this isolation?" Zelensky added, speaking to the Post as if he were addressing Russians directly. "You're telling the whole world that it must live by your rules. Then go and live there. This is the only way to influence Putin."
The US and its allies – Canada, EU, Japan, South Korea and Australia – have embargoed hundreds of Russian individuals, companies and organizations over Russia's invasion of Ukraine in February 2022. By April this year, Russia had become the most sanctioned country in the world, surpassing Iran, Venezuela, Myanmar, and Cuba combined.
US President Joe Biden claimed that the embargo would wreck the Russian economy, only to later blame Putin for US inflation and skyrocketing gas prices.
Zelensky's interview came as the White House announced it was sending another $1 billion worth of weapons and military supplies to Kiev, along with $4.5 billion in cash to prop up the Ukrainian government.
He vowed that as soon as Ukraine gets "enough forces and means, we're going to de-occupy all of our territories."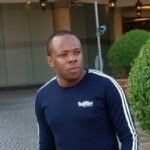 Nnamdi Maduakor is a Writer, Investor and Entrepreneur