Olam International, a leading food and agri-business company is actively looking for a qualified candidate to fill the position of Maintenance Engineer in Nigeria.
Also read; How to move to Canada by starting a business – Part 1
Olam International has manufacturing facilities in Nigeria, Ghana, Cameroon, and Senegal where it produces a range of quality flours for bread, baguettes, pasta noodles, biscuits, semolina, and confectionery.
Details of the vacant position
Position: Maintenance Engineer
Date published: 6th January, 2023
Country: Nigeria
Function: MATS
Sub-Function: MATS
Job Description
Key Performance Matrices include:
Optimize utilization of processing and quality resources in the country to derive maximum capacity utilization and efficiencies and to eliminate controllable losses and minimize the impact of non-controllable losses
Manage external contractors in a cost effective manner – seek to challenge their costs and performance to  ensure cost effective yet quality service.
Through managers, maintain and administer all personnel records and systems relating to employees (excluding records of sickness, absenteeism and holidays, recorded in the General Office).
Maintain and monitor processes in respect of breakdown and performance. (Running hours; kW/t; capacity per hour against set targets. (KPI)  React to variances.
Ensure hygiene standards in all areas are maintained to the highest standards at a minimum above those required by BRC.
Through respective managers, ensure the safe keeping of all company agreements, financial instruments etc.
Ensure the Health and Safety of all subordinates within Company guidelines and current legislation.
Ensure all functional management are aware of the correct codes of practice, both statutory and advisory, that govern accepted standards of safe operation at all premises. Ensure production plant causes the minimum of dust and noise both internally and externally.
By regular site inspection and training, ensure full employee awareness of safe working practices and their role in maintaining the required standards. (ongoing exercise)
Minimum Bachelor's degree in mechanical engineering, QEHS, HACCP related certification Job related courses and training
8 + years' experience of handling maintenance, utilities and projects in several jobs as Mechanical/Electrical engineer and project related management. Preferably flour milling, pasta processing or any other food processing industry.
To apply for the position after, click here.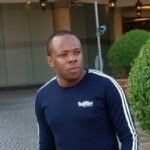 Nnamdi Maduakor is a Writer, Investor and Entrepreneur