An import ban of Russian goods and services into Ukraine is now official, according to the country's Economy Minister.
Trade between Ukraine and Russia, one of its key trading partners before the war, has been none existence since Russia's invasion of Ukraine in February.
Also read; Is USA running out of sanctions that it has to sanction export of Fertilizers to Russia
Announcing the ban on her Facebook page on Saturday, Ukraine's Economy Minister Yulla Svyrydenko  called on other countries to follow and impose harsher economic sanctions on Moscow.
"Today we officially announced a complete termination of trade in goods with the aggressor state," she wrote.

"From now on, no Russian Federation's products will be able to be imported into the territory of our state."

"Such a step of Ukraine can serve as an example for our Western partners and stimulate them to strengthen sanctions against Russia, including the implementation of the energy embargo and isolation of all Russian banks."
Ukraine's President Volodymyr Zelenskiy has repeatedly called on the West to boycott Russian oil and other exports and halt exports to Russia over its military assault.
Data on Trading Economics shows that Russia was Ukraine's 4th Export destination after China ($7.99bn), Poland ($4.98bn) and Turkey ($4.00bn) in that order. It exported goods and services worth $3.35 billion to the Russian Federation.
Data from the same source shows that Russia ranked 3rd on the list of Ukraine's imports by country, behind China ($10.64bn) and Germany ($6.07bn). Imports from Russia amounted to $5.85 billion in 2021.
In 2021 compared to 2020, Ukraine's imports of goods grew by 34.0% to $72.82 billion, exports – by 38.4% to $68.09 billion; Ukraine's imports of services increased by 32.9% to $7.59 billion, exports – by 14.2% to $13.16 billion, according to the State Statistics Service.
Russia thus accounted for 8.03% of Ukraine's import and 4.91% of its exports.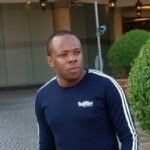 Nnamdi Maduakor is a Writer, Investor and Entrepreneur