On Monday, CNBC reported that the U.S Securities and Exchange Commission (SEC) has set its sights on the company issuing the Binance (BUSD) stablecoin.
The widely recognised leader in business news cited industry experts in its report of the potential move against Paxos, a company that issues the BUSD stablecoin, a move that will have major implications for the US$137 billion cryptocurrency market.
Also read; NEIMETH lists additional 2.37 billion shares on NGX
Investopedia defines a stablecoin as a cryptocurrency which has a value that is pegged or tied, to that of another currency, commodity or financial instrument.
Paxos issued a digital currency called Binance USD or BUSD. It is a stablecoin associated with Binance, one of the world's biggest cryptocurrency exchanges. BUSD is pegged one-to-one with the U.S. dollar.
Stablecoins have become become the backbone of the crypto market as they allow people to trade in and out of different coins quickly without having to convert in and out of fiat currency.
According to Coinmarketcap, BUSD is the seventh-largest stablecoin by market cap and its value its pegged to the US dollar.
In the preceding week Paxos announced that starting February 21, 2023, Paxos, the largest issuer of regulated stablecoins, will end its relationship with Binance, and cease issuance of new Binance USD (BUSD) stablecoin tokens after regulatory scrutiny from the New York Department of Financial Services (NYDFS).
Media reports however stated that the NYDFS had ordered Paxos to stop minting BUSD tokens due to "several unresolved issues related to Paxos' oversight of its relationship with Binance through Paxos-issued BUSD."
"All BUSD tokens issued by Paxos Trust have and always will be backed 1:1 with US dollar-denominated reserves, fully segregated and held in bankruptcy remote accounts," Paxos reassured investors in a statement at the time of the announcement.
In a separate note, Paxos also stated that the U.S SEC had issued it a notice that the regulator is considering recommending an action alleging that BUSD is a security. The notice according to Paxos suggests that Paxos should have registered the offering of BUSD under federal securities laws.
Though the SEC hasn't started official action yet against Paxos according to CNBC, it reported that the agency's actions are being watched closely because if it starts an official procedure, it could have huge implications for all stablecoins including tether, and USDC, the two largest which combined are worth $110 billion.
"If the SEC charges Paxos, any other issuer of stablecoins should register or prepare for a court fight with the SEC," Renato Mariotti, a partner at law firm BCLP, told CNBC.
While the SEC has not yet come out with specific charges, the notice to Paxos focuses on the question of whether stablecoins are securities or not.
For its part, Paxos said it "categorically disagrees with the SEC staff because BUSD is not a security under the federal securities laws."
If BUSD is deemed a security by the SEC then the regulator would have oversight over the stablecoin. Whatever company issues BUSD would need to register with the SEC and accept more stringent regulation.
The implication of BUSD being deemed a security will be that other stablecoins will also be given the same label.
"The basis for that action will necessarily be fact-specific to the Paxos BUSD structure but will likely have wide ranging implications for other stablecoin issuers selling coins into the U.S.," Townsend Lansing, head of product at CoinShares, told CNBC.
The U.S SEC vs Ripple Lawsuit in which the SEC alleged that Ripple, he blockchain developer and creator of the XRP cryptocurrency token, raised more than $1 billion in 2013 through the sale of XRP in an unregistered security offering to investors is still an open court case in the United States Southern District Court of New York.
Ripple has been arguing that XRP should not be treated as as security.
The implication of the SEC vs. Ripple case which may be decided in the first half of 2023 could decide the future of cryptocurrency regulations and determine if it is a security or a commodity.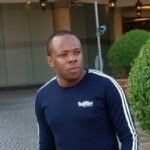 Nnamdi Maduakor is a Writer, Investor and Entrepreneur