FBN Holdings (NGX: FBNH) has notified the Nigerian Exchange Limited, the public and its stakeholders of a substantial shareholding in FBN Holdings Plc.
Also read; Profile of Taiwo Oyedele, Tinubu's tax reforms committee chairman
The notification seen by Investogist stated that the company received a notification from Honeywell Group Limited that its affiliate, Barbican Capital Limited has acquired an aggregate of 4,770,269,843 units of shares from the Company's issued share capital of 35,895,292,791 as at July 7, 2023.
The notification went on to state that the equity stake of Barbican Capital Limited in the company is 13.3%.
Business Day reported that Oba Otudeko, the chairman of Nigerian conglomerate Honeywell Group has been identified as the buyer of the 4.7 billion shares in a cross deal on Thursday.
Sources say Otudeko, who was chairman of First Bank until 2019, is making a swift comeback to become the single largest shareholder of the bank.
The shares were reported to have been bought at N19 per share at a totaled value of N87.8 billion.
The transaction is the largest volume of First bank shares traded in a single day since 2012, when the stock exchange started publishing data.
In its separate and consolidated financial statements for the year ended 31 December 2022, FBNH stated that according to the Register of Members as at December 31, 2022, Femi Otedola held 1.99 billion shares of FBNH, representing 5.57% equity stake in the company.
In April 2022, Investogist reported that Flour Mills of Nigeria Plc (NGX: FLOURMILL) completed the acquisition of 71.68% stake in Honeywell Flour Mills Plc (NGX: HONYFLOUR) from Honeywell Group and 5.06% from First Bank of Nigeria Limited.
In a press release on its website on Saturday, Honeywell Group stated that it notified FBN Holdings Plc (FBN) and regulatory authorities of the acquisition of 4,770,269,843 shares of FBN by its affiliate company, Barbican Capital Limited.
"This purchase is in addition to previously disclosed interests by HGL's affiliates.

"HGL holds its investments for the long term, working closely with all stakeholders to foster the creation of enhanced value for all.

"The investment is consistent with HGL's mission to create, build and invest in great businesses that deliver enduring value and improve lives," the company stated.
It was thought that Otudeko held 1.49 percent of First Bank shares in 2021 but information now available show that he held a significantly higher equity through associated entities and that is why his recent accent to the top has been smooth.
Otudeko's representatives on FBN's board had been unceremoniously sacked by suspended CBN governor Godwin Emefiele in what many believed was linked to dealings between FBN and Heritage Bank and the stout resolve of the erstwhile directors not to follow suggestions by the apex bank.
Investogist reported in April 2021, that the then Governor of Central Bank of Nigeria, Godwin Emefiele in a press briefing sacked the entire members of the Board of FBN Holdings Plc and its banking subsidiary First Bank Nigeria Ltd.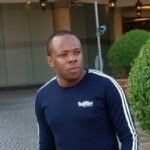 Nnamdi Maduakor is a Writer, Investor and Entrepreneur