On Saturday, 15th January 2022, an underwater volcano off Tonga erupted on Saturday, triggering warnings of 1.2-metre tsunami waves and evacuation orders on the shores of Tonga as well as several South Pacific islands, where footage on social media showed waves crashing into coastal homes.
Satellite images captured the volcanic eruption on Saturday as the explosion sent plumes of smoke into the air and about 12 miles above the sea level. The sky over Tonga was darkened by the ash.
Tsunami waves were observed in Tonga's capital and the capital of American Samoa, a U.S.-based tsunami monitor said, following the eruption at 0410 GMT of the Hunga Tonga-Hunga Ha'apai underwater volcano.
Internet and phone lines went down in Tonga at about 6.40 p.m. local time on Saturday, leaving the 105,000 residents on the islands virtually uncontactable.
Warnings were also triggered in Japan, where hundreds of citizens were advised to evacuate coastal. The evacuation order came as waves of more than a metre hit coastal areas.
Tonga, an island nation with around 105,000 residents, lies 2,383 kilometres (1,481 miles) northeast of New Zealand.
In a news conference on Sunday, Jacinda Ardern the Prime Minister of New Zealand said that contact has not been established with coastal areas beyond the capital Nuku'alofa.
"Nuku'alofa is covered in thick plumes of volcanic dust but otherwise conditions are calm and stable," Ardern said.

"We have not yet received news from other coastal areas,"
Japan's meteorological agency issued tsunami warnings in the early hours on Sunday and said waves as high as three metres (9.84 feet) were expected in the Amami islands in the south. Waves of more than a metre were recorded there earlier.
In a briefing, a Japan Meteorological Agency official urged people not to go near the sea until the tsunami advisory and more serious tsunami warnings had been lifted. The warnings – the first in more than five years – covered several specific areas.
Australia's New South Wales region started closing its beaches in response to the tsunami.
The volcano, which lies about 65 km (40 miles) north of Nuku'alofa, caused a 1.2-metre (four-foot) tsunami wave, Australia's Bureau of Meteorology said.
The bureau said it continued to monitor the situation but no tsunami threat had been issued to the Australian mainland, islands or territories.
Tsunami waves of 83 cm (2.7 feet) were recorded by gauges in the Tongan capital of Nuku'alofa and two-foot waves were seen at Pago Pago, the capital of American Samoa, the Pacific Tsunami Warning Center said.
In the United States, people on its Pacific coastline were urged to stay away from the shores.
The U.S National Weather Service said tsunami waves along the Oregon and southern Washington coast were expected imminently. High waves were reported in Alaska and Hawaii earlier.
In the San Francisco Bay Area of northern California, small parts of the cities of Berkeley and Albany near the bay were ordered to evacuate.
The Hunga-Tonga-Hunga-Ha'apai volcano has erupted regularly over the past few decades but Saturday's eruption was so loud that residents parts of faraway Fiji and New Zealand said they heard it.
There has been no official reports of injuries or deaths in Tonga at the time of this report, although communications are said to be limited.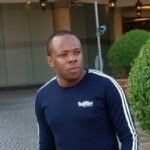 Nnamdi Maduakor is a Writer, Investor and Entrepreneur