Flutterwave Inc. has obtained switching and processing license for electronic payments from the Central Bank of Nigeria.
The license from the Apex Bank of the biggest market in Africa will enable Flutterwave process fund transfers between banks and fintechs, handle card transactions, participate in agency banking and engage in other payment services without an intermediary.
Also read; FG issues certificates, sales permit to fertilizer dealers
Bloomberg reported on Thursday that the California based technology firm confirmed the license acquisition in an email statement.
18 months ago, Flutterwave, founded by Nigerians and focused on Africa disclosed it's ambition to seek listings in New York or a possible dual listing in New York's NASDAQ and the Nigerian Exchange Limited.
Flutterwave has raised US$250 million in Series D this year, and is now valued at more than US$3 billion. The company is backed by B Capital Group and Tiger Global Management LLC.
Still growing rapidly, and attracting outside venture capitalists intent on harnessing the potential of the tech ecosystem of Nigeria's dominantly youthful population, start-ups in Africa's biggest economy and most populous country are entering a new phase of capital raising by way of public offering.
Flutterwave plans to use the fund raised from a potential IPO (Initial Public Offering) to expand its operations in its existing markets and enter new ones in Africa.
This is "an important milestone in our growth story," Oluwabankole Falade, Flutterwave's chief regulatory and government affairs officer, said in the statement. "As a switch, we have more responsibilities and will continue to work with regulators to ensure we meet and exceed their expectations."
The CBN license comes at the time when the Lagos and San Francisco-based firm is planning an initial public offering on the Nasdaq while battling allegations of financial misconduct, including claims of money laundering in Kenya and irregularities related to stock options and bullying of staff in Nigeria, its biggest market.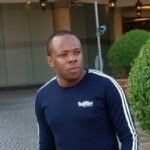 Nnamdi Maduakor is a Writer, Investor and Entrepreneur