The Russian economy contracted by just 2.1% in 2022, according to data released on Monday by the country's statistics agency, Rosstat.
This is less than the 12% fall earlier predicted according to BBC News, and better than the 10% drop some forecasters saw when the sanctions first hit over a year ago according to Bloomberg.
Also read; We informed Russia of Joe Biden's visit to Ukraine hours before departure- White House
The Institute for International Finance had predicted the Russian economy would shrink by 15% in 2022 and last March, US President Joe Biden said it was "on track to be cut in half".
Rosstat had published the data on the eve of a keenly awaited speech to parliament by President Vladimir Putin, days before the first anniversary of the launch of Russia's offensive against Ukraine on Feb. 24.
The GDP was better than the 2.9% contraction forecast by Russia's economic development ministry in September and the around 3% drop in the gross domestic product (GDP) expected by Russia's central bank.
Rosstat's figure was also better than the 2.5% drop that Putin evoked a month ago.
The International Monetary Fund (IMF) said at the end of January it expected a more moderate 2.2% contraction instead of the 3.4% drop it had previously forecast and said it expects Russia will muster slightly positive growth in 2023.
BBC reported that although questions have been raised about the reliability of the data, many commentators have been surprised at the Russian economy's resilience.
High oil prices and military spending have helped to support the economy.
After the invasion, hundreds of Western firms withdrew from Russia. The initial shock forced the stock market in Russia to close temporarily and saw the rouble tumble as people queued up at cash machines.
However, for most of 2022, Russia was able to continue exporting energy.
Western limits to energy exports were only applied gradually during the year, and while imports to Europe fell sharply during the year, a steady stream of buyers in China, India and elsewhere stepped in to buy up the oil which Europe would not.
Hardest-hit were wholesale and retail trade, as well as manufacturing and transport, the Federal Statistics Service said on Monday, while mining, agriculture, construction and government spending grew last year.
The Bank of Russia's governor, Elvira Nabiullina, said she expects the economy to return to growth in the middle of this year. She gave a range of -1.0% to +1.0% for GDP this year.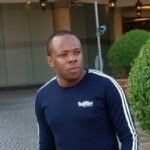 Nnamdi Maduakor is a Writer, Investor and Entrepreneur