Real Madrid's coach, Zinedine Zidane has been giving indications for months in his media appearances that he will be leaving Real Madrid.
With the season now ended, the multiple Champions League winner; both as a coach and player, is stepping down from the job for the second time.
In 2018, the French coach exited the club at the height of his achievements, having completed a run of three consecutive Champions League triumphs. This time around, in his own perspective, he is leaving the club at the right moment.
In the just concluded season, Real Madrid had gone without a trophy as they missed out on overtaking city rivals Atletico Madrid on the last day of the season.
Madrid's Captain Sergio Ramos  told Zidane he was "the one and only" as he bids farewell on his Instagram. He wrote;
ZZ, the one and only. I wish you all the best. You deserve it, you've earned it. Enjoy life, enjoy family. Big hug mister. Thank you.
Striker and fellow Frenchman Karim Benzema wrote; "Thank you bro for everything you have given me both collectively and personnally…"
Merci Frérot pour tout ce que tu m'as apporté tant sur le plan collectif que personnel…
Je suis fier et honoré d'avoir pu avancer et grandir auprès de l'homme que tu es.
See you… ❤️ #ZZ #legend #king pic.twitter.com/wkM9kNDJcC

— Karim Benzema (@Benzema) May 27, 2021
Despite the fact that the feeling of Zidane's departure was there, Madrid are still left in disarray. The club has numerous problems and having to appoint a new coach is another to add to the list.
Raul Gonzalez, in charge of Real Madrid's B team, is an in-house option, while Antonio Conte is a top-level candidate after he parted ways with Inter this week. Massimiliano Allegri would have been the favourite but he has rejoined Juventus.
President Florentino Perez previously wanted Mauricio Pochettino, and there are reports he is considering leaving PSG, but for a return to Tottenham. News by goal.com, states that Real Madrid have now made Mauricio Pochettino their top managerial target.
Pochettino has made no secret of the fact that a spell at Santiago Bernabeu would be a dream for him, with the South American having to refute claims of having a Madrid exit clause in his contract when taking the reins at Parc des Princes.
While there is desire on both sides to put a deal in place, with Pochettino aware that managing Madrid would be a golden opportunity, reaching an agreement with PSG will not be easy.
The Argentine is tied to a contract through to the summer of 2022 and compensation would be required to free him from that.
Talks are planned between representatives of Real and their French counterparts, with the latter holding the upper hand in any discussions.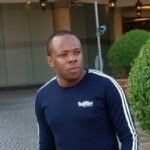 Nnamdi Maduakor is a Writer, Investor and Entrepreneur