The deputy chief of the Ukraine's intelligence agency, Vadim Skibitsky has revealed that Russian President Vladimir Putin is on Ukraine's kill list.
Speaking to Germany's Die Welt media outlet on Wednesday, Skibitsky was asked whether his service is trying to assassinate the Russian head of state. The Ukrainian official replied by saying that President Putin "notices that we're getting ever closer to him."
Also read; UK bans Nigerian students and others from bringing family
According to Skibitsky, the Ukrainian intelligence service has failed to kill Putin because he "stays holed up," but added that the Russian commander-in-chief "is now beginning to stick his head out."  
When he does appear publicly, however, the intelligence agency is "not sure whether it's really him," Skibitsky insisted.
He added that his subordinates were "trying to kill" Yevgeny Prighozhin, the head of the Wagner private military company.
Russian Defense Minister Sergey Shoigu and Chief of the General Staff Valery Gerasimov have also been marked for elimination by the Ukrainian intelligence service, its deputy chief claimed.
When asked whether Kiev was behind the assassinations of journalist and activist Darya Dugina last August and military blogger Vladlen Tatarsky in late April, as well as the attempt on the life of writer Zakhar Prilepin earlier this month, Skibitsky claimed that these had been 'inside jobs'.
The Ukrainian official also alleged that various groups within the Russian elite were fighting each other for power.
Earlier in the month, Russia accused Ukraine of attempting an overnight drone attack on the Kremlin with the aim of killing President Vladimir Putin.
Russia made the allegation after two drones were said to have attacked the Kremlin, Russia's presidential house.
At the time, Ukrainian President Volodymyr Zelenskyy denied that his country had attacked the Russian capital or its president.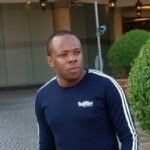 Nnamdi Maduakor is a Writer, Investor and Entrepreneur