Conoil Plc (NSE -CONOIL) reported a decline in both revenue and profit after tax for the nine months ended 30 September 2020, according to the unaudited financial statements filed with the Nigerian Stock exchange.
However, the profit after tax for the third quarter (July to September 2020) rose by 16% due to cost control measures implemented by the company despite the 24% decline in revenue recorded in the third quarter compared to Q3 2019.
Revenue dipped by 22% to N88.10 billion in the first nine months of the year compared to N112.72 billion reported in the same period in 2019. Cost of Goods Sold (80.16 billion) represented 91% of the total revenue thus leaving a gross profit of N7.94 billion.
Conoil made all of the revenue from the sale of petroleum products within Nigeria according to its report.
The gross profit margin declined to 9% from 10% in nine months of 2019.
In Q3 (July to September 2020), the company's revenue dropped by 24% to N30.65 billion from N40.50 billion in Q3 2019.
The profit for the period dropped by 35% to N1.11 billion from N1.70 billion in 2019 nine months report. Similarly, the basic earnings per share declined by 35% to N1.60 from N2.45 in 2019.
In Q3 2020 the profit after tax rose by 16% to N772.10 million from N667.53 million in Q3 2019.
The total assets of Conoil Plc declined by 18% to N52.18 billion as at 30 September 2020 from N63.58 billion as at 31 December 2019.
Major changes in the asset column;
Property, plant, and equipment declined to N2.37 billion from N3.07 billion
Inventories declined to N6.12 billion from N9.82 billion
Trade and other receivables declined to N35.88 billion from N40.44 billion
Cash and bank balances declined to N4.57 billion from N7.08 billion.
39% of the assets are financed by equity (N20.58 billion) which rose by 6% due increase in the retained earnings to N16.4 billion from N15.3 billion. Whereas 61% of the assets are financed by liability (N31.60 billion) which declined by 18% as the company paid off a short-term borrowing of N9.15 billion, coupled with a N3.65 billion decline in trade and other payables.
Cash flow remained strong with N4.57 billion cash and cash equivalents as at 30 September, buoyed by N7.57 billion generated from operating activities.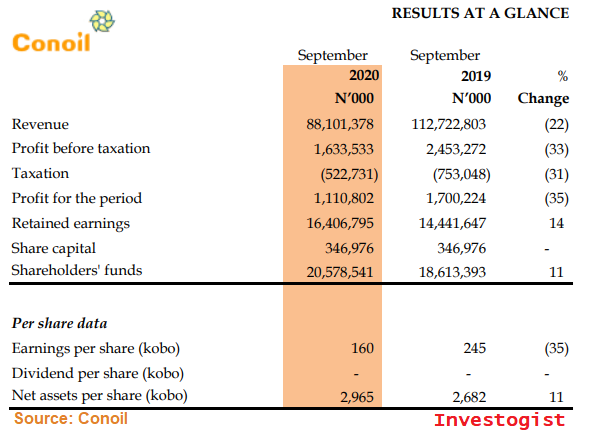 About Conoil
Conoil Plc was incorporated in 1960. The Company's authorized share capital is 700,000,000 ordinary shares of 50k each. The Company was established to engage in the marketing of refined petroleum products and the manufacturing and marketing of lubricants, household, and industrial chemicals.
The Company has identified three operating and reportable segments: White products, Lubricants, and Liquefied Petroleum Gas (LPG). The White products segment is involved in the sale of Premium Motor Spirit (PMS), Aviation Turbine Kerosene (ATK), Dual Purpose Kerosene (DPK), Low-pour Fuel Oil (LPFO), and Automotive Gasoline/grease Oil (AGO). The products under the lubricant segment are Lubricants transport, Lubricants industrial, Greases, Process Oil, and Bitumen. Products traded under the LPG segment are Liquefied Petroleum Gas – Bulk, Liquefied Petroleum Gas – Packed, cylinders, and valves.
The current equity price of Conoil Plc is N19.05 per share. YTD the share price is up by 2.97% while in 2 years and 5 years it has lost 15.33% and 30.50% of its value respectively.
By; Ifunanya Ikueze