The total OPEC-13 crude oil production averaged 24.05 mb/d in August 2020. This represents 0.76 mb/d increase compared to July production based on secondary sources according to the Organization of the Petroleum Exporting Countries (OPEC) monthly oil market report released on Monday.
According to the report seen by Investogist, crude oil output increased mainly in Saudi Arabia, UAE, Kuwait, Algeria and Angola, while production decreased primarily in Iraq.
The global liquids production in August increased by 1.32 mb/d to average 89.88 mb/d, compared with July, and lower by 10.01 mb/d, y-o-y.
The share of OPEC crude oil in total global production stood at 26.8% in August a slight increase from July figures
Nigeria crude oil production slightly rose to 1.361mb/d in August 2020 from 1.353mb/d produced in July 2020 based on direct communication.
However, crude oil production in Nigeria stood at 1.482mbpd in August 2020 slightly up from 1.480mbpd produced in July 2020 based secondary sources.
Read also; OPEC turns 60 – How did it get here?
OPEC crude oil production based on direct communication, tb/d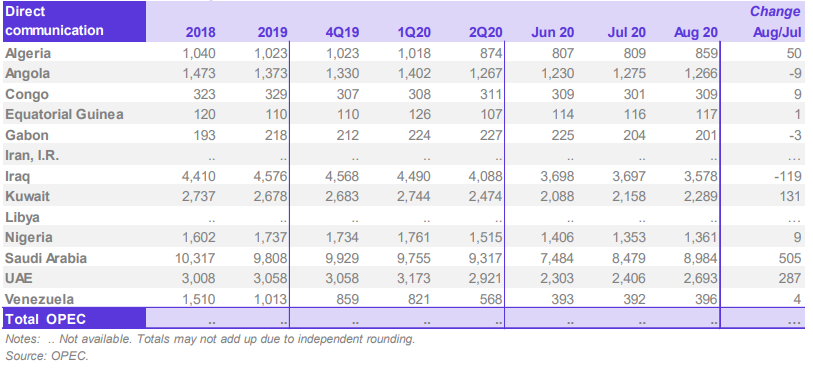 OPEC crude oil production based on secondary sources, tb/d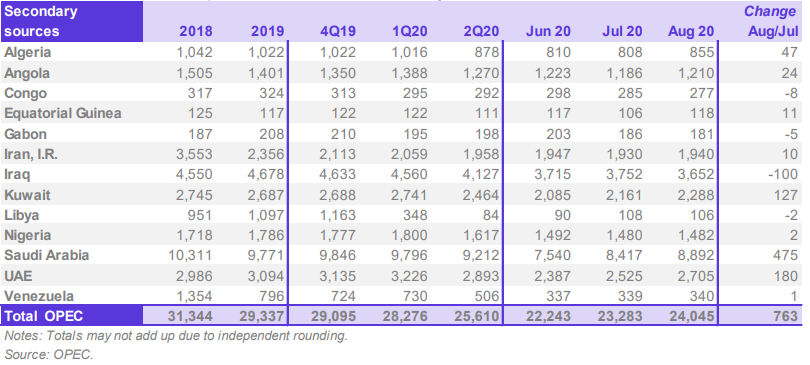 Crude oil spot and futures prices extended gains in August, reaching a six-month high. Futures rose above $46 per barrel, supported by positive market sentiment, steadily improving market fundamentals, positive economic indicators, and a weaker US dollar.
However, the prices of crude oil futures have fallen in the past week with Brent trading at $40.13 per barrel while Western Texas Intermediate is trading at $37.15 as at 05:51 GMT on Tuesday.
OPEC basket closed at $39.82 per barrel while Nigerian Bonny Light traded at $38.52 per barrel.
Total world oil demand which averaged 90.3mb/d in 2020, is expected to grow by 6.62mb/d (7.34%) on average in 2021 to 96.86mb/d.
Written by;
Ifunanya Ikueze