In a circular published on its website, The National Insurance Commission (NAICOM) announced the cancellation of the operational license it issued to UNIC Insurance Limited.
The circular seen by Investogist stated;
This is to notify the general public/policy holders that, in exercise of the powers conferred on her by enabling laws, the National Insurance Commission (NAICOM) has cancelled the operational license issued hitherto to UNIC Insurance Limited – RIC 043 to operate as Insurance Company with effect from 25th March, 2021.
The commission consequently appointed Hadiza Baba Gimba, as the Receiver/Liquidator to wind-up the affairs of the Company.
Going forward all enquiries and correspondence regarding UNIC Insurance Limited to the Receiver/Liquidator who will be dealing with its liabilities in accordance with the provisions of the Insurance Act 2003.
The contact address of the Receiver/Liquidator is as follows:
Hadiza Baba Gimba

Suite D7 Awmar Plaza, Odimegu Ojukwu way,

Off Abdulsalam Abubakar Way,

Gudu, Abuja
About the Company
Unic Insurance Limited commence operation on 1 October 1965. It was incorporated as a private liability company on 2 April 1965 and became a public liability company on 27 February 1990 and later delisted back to a limited liability company on 10 April 2017.
The principal activity was initially a composite insurance company but later limited to Life and Health Insurance business as well as Financial Services since 2007 consolidation exercise in the insurance industry.
UNIC Diversified Holdings Plc have held the whole of UNIC Insurance Limited shares, starting from 31 Dec 2016.
UNIC Diversified Holdings Plc is a new company that was incorporated in September 11, 2015 by the shareholder of the former UNIC Insurance Plc (now UNIC Insurance Ltd after being delisted) through restructuring of UNIC Insurance Group.
The restructuring arrangement involved the shareholders of the former UNIC Insurance Ltd becoming the shareholders of UNIC Diversified Holdings Plc which held minority interest in UNIC Insurance Ltd by divesting the majority interest in UNIC Insurance Ltd to a third party investor.
The principal activities of the UNIC Diversified Holdings Plc are to carry on finance holding company and to invest and hold shares in blue chip companies.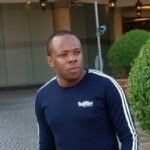 Nnamdi Maduakor is a Writer, Investor and Entrepreneur