MTN Nigeria Communications Plc (NGX: MTNN) has reported that its ordinary share offering was oversubscribed by 139.4%.
The results of the series 1 offer which involved the sale of 575 million ordinary shares was published by the Telecoms giant on the Nigerian Exchange.
With the offer being 139.47% oversubscribed, the allocation of an additional 86.25 million shares was activated.
The Series 1 offer for sale of 575 million shares held by the MTN Group in MTN Nigeria to Nigerian Investors was successfully completed. The Offer was implemented by way of a bookbuild to qualified institutional investors and a fixed price offer to retail investors.
Valid applications for a total of 801.97 million units of share was subscribed for, leading to the activation of the approved 15% over-subscription clause of an additional 86.25 million MTN Nigeria shares.
In all, 661.25 million MTN Nigeria shares were allotted to 126,720 retail investors who submitted valid applications.
Institutional Investors including pension funds, insurance companies. asset managers, corporates, and foreign portfolio investors who participated in the bookbuild was allotted 72.09% of their applications.
Following the successful completion of the Offer, MTN Group's shareholding in MTN Nigeria reduced by 3.25 percentage points, from 78.83% to 75.58%.
The share offering had an incentive structure of 1 free share for every 20 purchased, subject to a maximum of 250 free shares per Investor.
By virtue of this incentive, 4.28 million units of MTNN shares will be allotted to qualifying investors who hold the shares allotted to them for 12 months till 31 January 2023.
114,938 new CSCS accounts were created for this offering, representing new market participants. Approximately 76% of successful applicants via digital platform are women, and 85% are under age 40.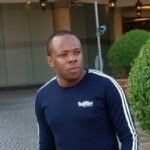 Nnamdi Maduakor is a Writer, Investor and Entrepreneur