MTN Nigeria Communications Plc (NGX ticker: MTNN) has commenced the process to offer for sale of up to 575 million ordinary shares to institutional and retail investors.
In a public action signed by Uto Ukpanah, the Company Secretary, seen by Investogist, the Telecommunications giant announced that it has obtain the approval of Securities and Exchange Commission (SEC) to proceed with the sale.
The company will sell up to 575 million ordinary shares in MTN Nigeria held by MTN International (Mauritius) Limited, by way of a bookbuild to qualified investors (Institutional Offer) and a fixed price to retail investors (Retail Offer).
As at 31 December 2020, MTN International (Mauritius) Limited held a total interest of 76.08% (15.485 billion ordinary shares) in MTN Nigeria.
Read also; The N80bn Agreement between Flour Mills of Nigeria Plc and Honeywell Group Limited
Investopedia defined book building as the process by which an underwriter attempts to determine the price at which a Share will be offered to Investors. An underwriter, normally an investment bank, builds a book by inviting institutional investors (such as fund managers and others) to submit bids for the number of shares and the price(s) they would be willing to pay for them.
The Institutional Offer opened earlier today 23 November 2021 by 12.00 noon and will close at 2.00pm on 26 November 2021, after which a fixed rice will be determined for the Retail Offer.
The Retail Offer is proposed to open after the Institutional Offer, and an announcement will be published in this regard when clearance has been obtained from SEC.
About the Company
MTN Nigeria Communications Plc (the Company) was incorporated on 08 November 2000 as a private limited liability company under the Companies and Allied Matters Act of Nigeria 2020.
The Company was granted a licence by the Nigerian Communications Commission on 9 February 2001 to undertake the business of building and operating GSM Cellular Network Systems and other related services nation-wide in Nigeria.
The Company commenced operations on 8 August 2001 (commercial launch date). Currently, the Company holds a Unified Access Service License (UASL) in addition to a 2GHz Spectrum and Digital Terrestrial TV Broadcasting licence, in addition to others shown in note 19.
On 18 April 2019, MTN Nigeria Communications Limited re-registered as a public limited company, MTN Nigeria
Communications Plc. The Company was listed by introduction on the Premium Board of the Nigerian Stock Exchange on 16 May 2019.
The Company's registered office is at 4, Aromire road, off Alfred Rewane Road, Ikoyi Lagos.
MTN Nigeria Communications Plc's subsidiaries are XS Broadband Limited, Visafone Communications Limited and Yello Digital Financial Services Limited. Their principal activities are the provision of broadband fixed wireless access service, high quality telecommunication services and mobile financial services respectively.
The Group's holding company is MTN International (Mauritius) Limited, a company incorporated in the Republic of Mauritius and its ultimate holding company is MTN Group Limited, a company incorporated in South Africa.
MTNN has 20.35 billion outstanding ordinary shares.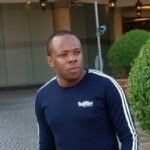 Nnamdi Maduakor is a Writer, Investor and Entrepreneur