Austria has expressed a strong position against the proposed EU embargo on Russian gas. Magnus Brunner, Austria's Finance Minister told CNN that Austria cannot afford to ban imports of Russian gas.
He expressed the view that Austria supports "all sanctions" on Moscow, but "not the gas embargo."
"Once a sanction hits yourself more than the one targeted by the sanction, I think there's not much use," Magnus Brunner said, adding that Austria's industry is so dependent on Russian gas that they have "no choice."
There was not much sense in a sanction that harmed Austria's economy more than Russia's, he stressed.
The European Union imported nearly 100 billion euros ($110 billion) worth of Russian energy last year. Russia supplies about 40% of the bloc's imports of natural gas, and about 27% and 46% of its imported oil and coal respectively.
In March, the EU unveiled a plan to phase out its reliance on Russian gas by 2030, but stopped short of an immediate ban on imports. The bloc's economic powerhouse, Germany, as well as other Central and Eastern European members, remain dependent on Russian energy.
German Economy Minister Robert Habeck warned in March that cutting off imports of Russian gas and oil immediately could cause "mass unemployment, poverty, people who can't heat their homes."
Ukrainian President Volodymyr Zelensky, meanwhile, urged EU members to adopt "a clear timetable" for banning or reducing the use of Russian oil and gas.
In March, Austria called on the EU to keep a cool in its relations with Russia, despite the reports of Russian atrocities in Ukraine.
Speaking ahead of a meeting of Eurozone Finance Ministers in the Grand Duchy then, the Austria Finance Minister expressed Austria's opposition to a ban on Russian energy.
"We are very much dependent on the Russian gas, and I think all sanctions that hit us more than the Russians wouldn't be good for us," Magnus Brunner told reporters.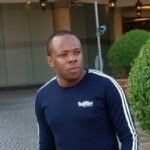 Nnamdi Maduakor is a Writer, Investor and Entrepreneur