The Russian Federation has imposed sanctions on the President of the United States of America, Joe Biden. The list released by the Russian foreign ministry includes Secretary of State Antony Blinken, Defence Secretary Lloyd Austin, press secretary Jen Psaki and other members of the administration.
The 13 person list also included two surprises; former Secretary of State Hillary Clinton and Mr Biden's Son Hunter Biden.
The measures contained in the sanction is the blockage of entry into Russia for these individuals as well as freezing of any assets they may hold in the country.
Read also; Ukraine's constitution-enshrined bid for NATO Membership not realizable – Zelensky
The sanctions according to the ministry is being applied "on the basis of reciprocity."
Other sanctioned along with the President includes;
Chairman of the Joint Chiefs of Staff Mark Milley
National Security Adviser Jake Sullivan
Deputy National Security Adviser Daleep Singh
US Agency for International Development (USAID) Administrator Samantha Power
Deputy Secretary of the Treasury Wally Adeyemo
President of the Export-Import Bank of the US Reta Jo Lewis
Western countries have already sanctioned top Russian officials, including President Vladimir Putin, Foreign Minister Sergei Lavrov and Kremlin press secretary Dmitry Peskov.
On Tuesday, the US announced sanctions on 11 Russian defence leaders and signalled that it could levy sanctions against Alexander Lukashenko, the President of Moscow-allied Belarus.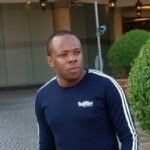 Nnamdi Maduakor is a Writer, Investor and Entrepreneur