Germany's bid to reduce its dependence on Russian natural gas may be yielding fruits, as the country reaches a long-term energy partnership with Qatar.
The German economy minister Robert Habeck is on a  two-nation visit to the Arabian Gulf, met with Qatari Emir Sheikh Tamim bin Hamad al-Thani in Doha.
"Although we might still need Russian gas this year, in the future it won't be so anymore. And this is only the start,"  Habeck said during the meeting.
In a statement, Qatar said that for years it had sought to supply Germany but discussions never led to concrete agreements.
Qatar said it agreed with Germany that "their respective commercial entities would re-engage and progress discussions on long term LNG supplies".
Also read; We won't negotiate new gas deal with Russia's Gazprom – Bulgaria
A spokesperson for the German economics ministry in Berlin on Sunday 20 March 2022, confirmed that a deal had been clinched.
The economy ministry spokesperson said that "the companies that have come to Qatar with Habeck will now enter into contract negotiations with the Qatari side."
Habeck also met Qatari Minister of State for Energy Affairs Saad Sherida al-Kaabi in Doha, where they discussed energy relations and cooperation between Qatar, one of the world's top natural gas exporters, and Germany, and ways to enhance them, according to a statement from al-Kaabi.
Germany, Europe's largest economy, has long relied on Russian energy supplies and has been reluctant to sanction Moscow for its aggressive actions in Eastern Europe.
At the onset of the Russian-Ukrainian war, German chancellor Scholz withdrew approval for the $11 billion Nord Stream 2 gas pipeline, that was to bring natural gas from Russia to Germany.
With Qatar far away in the Middle-East, Germany intends to import LNG via ships, but there are no LNG terminals in Germany to receive these LNG transport ships due to the long-standing reliance on pipeline gas.
A plan to construct two additional LNG terminals for the Qatar LNG has been announced by the German government. These are unlikely to be completed before 2026.
Germany intends to phase out its nuclear power production by the end of this year, leaving observers questioning how Europe's biggest economy will fulfill all of its energy needs.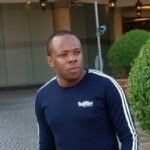 Nnamdi Maduakor is a Writer, Investor and Entrepreneur