Sell-offs hit the Crytpotcurrency market on Monday as traders booked in on their profits. Bitcoin the most popular cryptocurrency traded as low as $32,680.5 on the Investing.com Index, losing over 25% at the time. The largest one-day percentage loss since Thursday, March 12, 2020.
Bitcoin's market cap dipped to $615.00B. Bitcoin has traded in the range of $32,680.50 to $38,217.2. in the last 24hours.
The euphoria around Bitcoin had sent to an all-time high of $41,921.72 set on Friday, January 8, 2021.
It took nearly 11 years for bitcoin to reach $20,000 per coin for the first time in 2017. Just 22 days later, the world's most popular cryptocurrency has surged another $20,000 to rise above $40,000.
Then it took it just four days to lose over $9,000, once again highlighting the high degree of its volatility.
Bitcoin's rapid climb back in 2017 was swiftly followed by sell-offs that erased the bulk of its quickly earned gains.
Bitcoin has however recovered to $35,290.7 at 0829GMT on Monday on the Investing.com Index but it is still down by 16.18%.
Ethereum was trading at $1,017.23 by 02:18 (07:18 GMT) on the Investing.com Index on Monday, down 30.23% on the day. It was the largest one-day percentage loss since March 12, 2020.
The fall pushed Ethereum's market cap down to $118.60B. At its highest, Ethereum's market cap was $147.00B.
Ethereum had traded in a range of $1,016.02 to $1,257.30 in the previous twenty-four hours.
Ethereum has also recovered to $1,094.26 at 0829GMT on Monday on the Investing.com Index, down 21.45%.
Whereas XRP is trading at $0.28804 on the index, down 21.94%.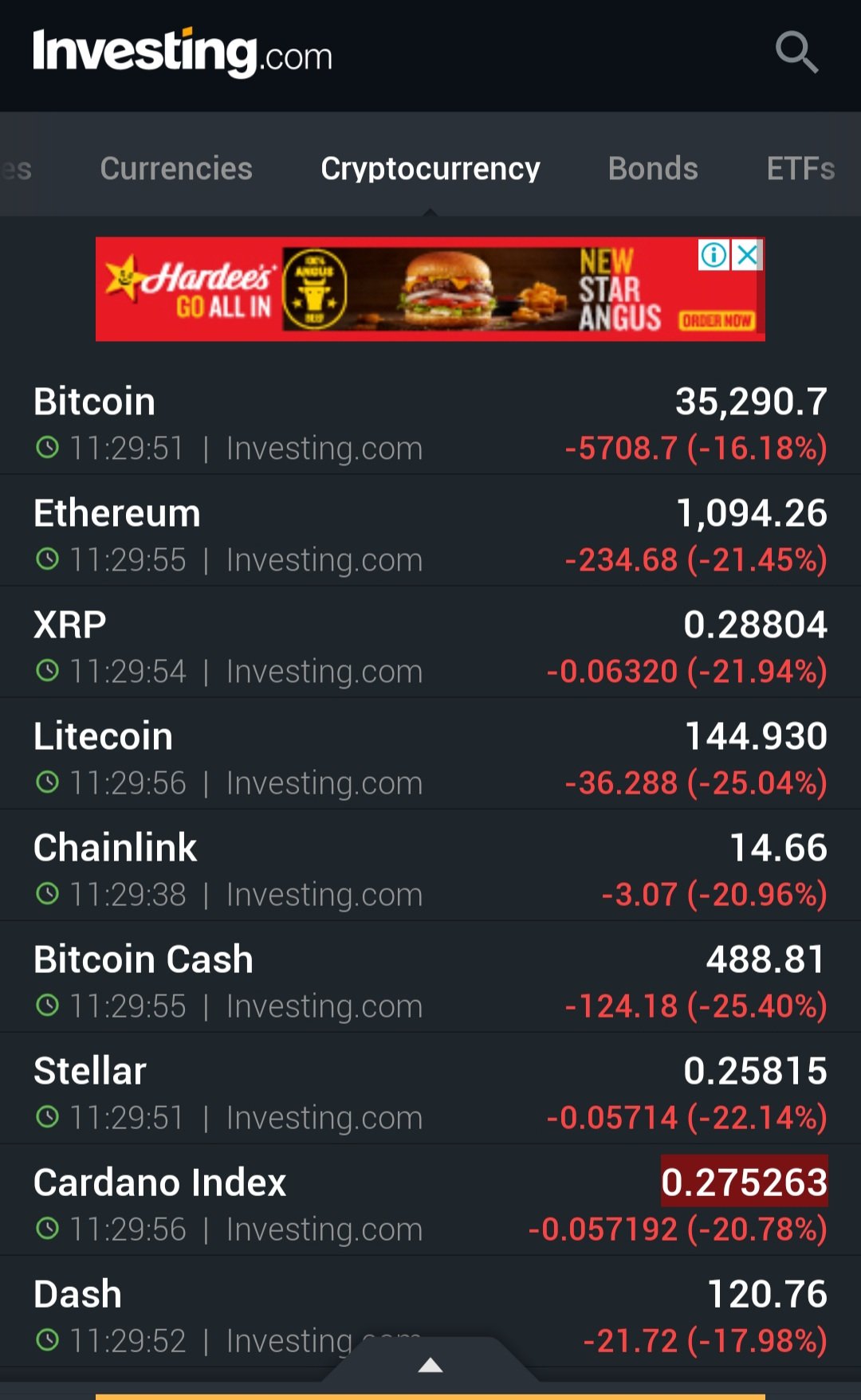 While passionate retail investors powered bitcoin's 2017 rally, public companies sparked the token's latest climb.
Companies and institutional investors warming up to bitcoin and other cryptocurrencies in addition to PayPal's adoption, thus giving legitimacy to an asset recently known more for its murky uses than its investment potential.
Last week the US Office of the Comptroller of the Currency said national banks can use blockchain networks and stablecoins for payments, further legitimizing digital currencies.
Bitcoin's rapid doubling has naturally prompted some investors to deem the token a bubble. JPMorgan said that the token's rally moves it "into more challenging territory," and that a continued climb at its current pace would likely "prove unsustainable."
By: Ifunanya Ikueze