Activities on the Nigerian Stock Exchange equities market was subdued on Wednesday, with the only significant event being the price movement in the shares of Beta Glass Plc.
The share price of Beta Glass Plc (BETAGLASS) has remained unchanged since 25th August 2020, when it closed at N55.40, down from the N61.55 it closed on 24th August 2020. On that day, 254,266 units of the stock was traded.
On Wednesday, the glass manufacturer with only 499,972,000 outstanding shares recorded 623,686 units of shares being transacted, higher than its combined traded units in all trading sessions of 2021.
The market benchmark index, the NSE All-Share Index (NSE ASI) dropped by 0.07% to close at 40,465.32, with the market capitalization shedding the same percentage of its value to close at N21.169 trillion.
The YTD performance of the index stood at +0.48%, with Investors' wealth adding N112.440 billion.
Activity level
The activity level waned significantly, with the volume of trades shares decreasing by 31.49%, while the value of the traded shares also declined by 53.95%.
244.202 million units of shares valued at N2.653 billion exchange hands in 4,083 deals on Wednesday.
Shares of FBNH, TRANSCORP and GUARANTY were the three most traded stocks by volume. 52.314 million units of FBNH, 24.806 million units of TRANSCORP, and 16.531 million units of GUARANTY topped the table of top active stocks.
MTNN shares was the most traded by value, recording N557.108 billion worth of shares traded in 158 deals.
GUARANTY and FBNH were the second and third most traded stocks by value, with shares worth N512.526 billion and N381.498 billion exchanging hands.
Performance of Indices
Three out of the five indices under our watch closed in negative territory, while the other two closed positively.
Insurance Index advanced by 1.92% on the back of gains in WAPIC (+7.3%) and CORNERST (+9.3%)
Oil & Gas Index advanced by 0.20%, thanks to OANDO (+2.7%)
Consumer Goods Index shed 0.07%, as traders booked profits in GUINNESS (-3.4%)
Banking Index lost 0.24%, as sell pressures persisted on banking stocks
Industrial Goods Index lost 0.80% owing to a drop in BUACEMENT (-1.8%)
Investor Sentiment
Investor sentiment as measured by market breadth (advance/decline ratio) weakened to 0.8x from the 1.1x recorded previously as 17 stocks gained against 22 losers.
Top 5 gainers by percentage are;
JBERGER gained 9.73% to close at N20.30
LIVINGTRUST gained 9.68% to close at N0.68
HONYFLOUR gained 9.60% to close at N1.37
CORNERST gained 9.26% to close at N0.59
UPDCREIT gained 7.41% to close at N5.80
Top 5 losers by percentage are;
BETAGLASS lost 9.75% to close at N50.00
JAPAULGOLD lost 8.86% to close at N0.72
FIDSON lost 8.55% to close at N5.35
CHIPLC lost 7.89% to close at N0.35
VITAFOAM lost 7.56% to close at N7.56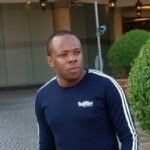 Nnamdi Maduakor is a Writer, Investor and Entrepreneur