Apple Inc (NASDAQ: AAPL) earlier today became the first publicly traded American company to reach $2 trillion in market value. Based on a share count of more than 4.275 billion, Apple broke the barrier just before 11am ET, when its price rose to $467.77.
KEY POINTS
Apple surpasses a market capitalization of $2 trillion, doubling in valuation in just over two years.
The company started by Steve Jobs becomes the first publicly traded U.S company to reach a $2 trillion market capitalization.
Apple also beat other Tech. giants; Facebook, Amazon and Google to become the first U.S Company to reach a $1 trillion market cap.
Apple first reached a $1 trillion market cap on Aug. 2, 2018. Wall Street has largely expected Apple to be the first to surpass the $2 trillion mark. On July 31, Apple surpassed the state oil giant Saudi Aramco to become the world's most valuable publicly traded company.
It didn't take long for other tech giants to match Apple's $1 trillion market cap. Today, Amazon, Microsoft and Alphabet all have market caps above $1 trillion.
Apple shares are up about 60% year-to-date, pushing through the pandemic that's battered many companies. In the past year, shares have risen more than 120%.
The valuation of the company has doubled in about two years, and the stock has more than doubled in the past year and is heading for a split. The company said last month that its board of directors approved a four-for-one stock split, meaning that for each share of Apple stock that an investor owns, they'll receive three additional shares.
For all Apple share splits and dividends, click here.
The shares will also become more affordable for investors. It is the fifth split since 1987. The most recent move was made in 2014, when it offered a seven-to-one split, CNBC reported.
Apple reported strong third quarter results in July with earnings per share of $2.58 compared to the estimated $2.05 on sales of $59.69 billion, which compared to the expected $52.29 billion, according to analysts tracked by Investing.com.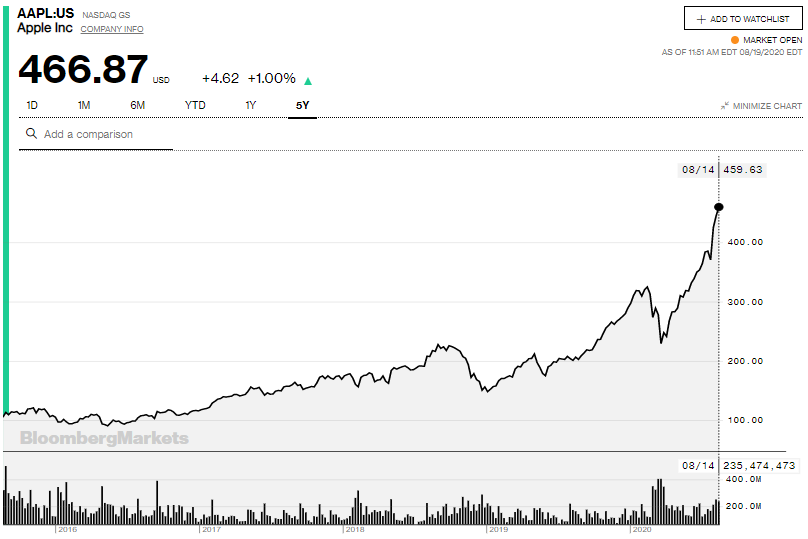 Source: Bloomberg
Written by;
Nnamdi M.