Airtel Africa Plc (NGX: AIRTELAFRI) reported a strong profit of $514 million for the 9 months period ended 31st December 2021. The reported profit is 97.3% higher than the $261m it reported in the same period in 2020.
A review of the results for the 9 month period sighted by Investogist shows the company earned an underlying revenue of $3,492m. This is a 22.5% increase from the $2,850m it earned for the 9 months period ending 31st Dec. 2020.
The underlying revenue was earned primarily from Voice, Data, and Mobile money revenue;
Voice revenue: $1,747m (9 Months 2020: $1,537m)
Data revenue: $1,127m (9 Months 2020: $842m)
Mobile money revenue: $406m (9 Months 2020: $291m)
Other revenue: $306m (9 Months 2020: $255m)
$1,370m of the Revenue was earned in Nigeria, while  $1,282m and $849m were earned in East Africa and Francophone Africa respectively.
East Africa business region includes Kenya, Malawi, Rwanda, Tanzania, Uganda and Zambia. Francophone Africa business region includes Chad, Democratic Republic of the Congo, Gabon, Madagascar, Niger, Republic of the Congo, and Seychelles.
Operating profit was $1,146m, growing by 43.1% in reported currency as a result of strong revenue growth and improvements in operating efficiency.
Net finance costs decreased by $27m, as a result of lower foreign exchange losses and a one-time $12m gain in other finance charges as a result of the reversal of an interest provision in the Group's operating entities.
Total tax charges increased by $129m, largely due to higher operating profit and withholding tax on dividends by subsidiaries. The prior period also benefited from the recognition of a deferred tax credit of $14m in Tanzania.
Profit after tax almost doubled to $514m, an increase of 97.3%. The increase was mainly led by higher operating profits along with lower net finance costs, which more than offset the increase in tax charges due to increased profits.
Basic EPS more than doubled to 11.7 cents, an improvement of 6.2 cents, up from 5.5 cents in the prior period. The increase was mainly due to higher operating profits which more than offset the increased tax charges.
Net cash generated from operating activities increased by $282m, an increase of 23.1% to $1,499m (from $1,217m in the previous period), mainly driven by higher profit before tax of $382m partially offset by higher tax payments on the increased profits.
About Airtel Africa
Airtel Africa Plc is a leading provider of telecommunications and mobile money services, with a presence in 14 countries in Africa, primarily in East Africa and Central and West Africa.
Airtel Africa offers an integrated suite of telecommunications solutions to its subscribers, including mobile voice and data services as well as mobile money services both nationally and internationally.
The Group aims to continue providing a simple and intuitive customer experience through streamlined customer journeys.
AIRTELAFRI has 3.75 billion outstanding shares and a Market Capitalization of N3.94 trillion. It is the second most capitalized stock on The Nigerian Exchange.
It's share price currently stand at N1,271.00, its 52 week high price. The 52 week low price is N601.00.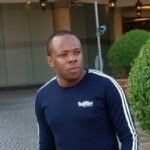 Nnamdi Maduakor is a Writer, Investor and Entrepreneur