Warren Buffet's company, Berkshire Hathaway has bought $1 billion worth of stock in a digital bank that is friendly to crypto.
Berkshire Hathaway made its crypto investment public with a SEC filing earlier this week. It revealed that Buffett's company had purchased $1 billion in shares of Nubank, a digital bank based in Brazil, and the largest of its kind in Latin America.
Nubank is a so-called neobank, a type of bank that operates outside of the rules of the traditional banking system. The digital bank's investment unit, NuInvest, allows users to put money in a Bitcoin exchange-traded fund (ETF)—tapping a financial space that Berkshire's leaders have shown little love for.
Berkshire's leaders; Warren Buffet (Chairman)  and Charlie Munger (Vice-Chairman) has never hidden their individual distaste for cryptocurrencies.
Not so long ago, while presiding over the  Berkshire Hathaway 2018 annual shareholder meeting, Buffet said that Bitcoin is "probably rat poison squared."
In January of 2018 Buffett warned investors about the craze over bitcoin and other cryptocurrencies in interview with CNBC.
"In terms of cryptocurrencies, generally, I can say with almost certainty that they will come to a bad ending. If I could buy a five-year put on every one of the cryptocurrencies, I'd be glad to do it but I would never short a dime's worth."
At the 2018 AGM, Charlie Munger said that trading in cryptocurrencies is "just dementia." He recently stated that he wished cryptocurrency had "never been invented," and he has even indicated that he would not want any crypto trader marrying into his family.
Munger has a particular distaste for Bitcoin, the most popularly traded cryptocurrency, once calling it "disgusting and contrary to the interests of civilization." Munger has supported China's decision to ban Bitcoin trading in the country and has called on the U.S. to take similar measures.
"The Chinese made the correct decision, which is just to simply ban them," he once said.
Records show that Berkshire had bought a $500 million stake in Nubank last year, months before the company went public in December 2021. It was at the time, the largest single investment the fintech bank had ever received.
An interesting aspect of the SEC filing is that while Berkshire was increasing its investment in the Crypto sphere last year, it was dropping more traditional financial assets on its books.
Having invested $1 billion in Nubank, Berkshire sold over $3 billion in its shares of Visa and Mastercard.
While Nubank has a window for its customers to interface with Cryptocurrencies, this may not be the reason for the Berkshire Investment. Buffet and his investment company are more likely to be interested in the opportunities digital financial service providers like Nubank present.
Nubank defines itself as a technology company with a young and innovative spirit that develops simple, secure and digital solutions for your financial life.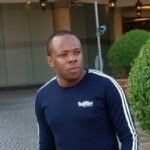 Nnamdi Maduakor is a Writer, Investor and Entrepreneur