The Ukrainian Prime Minister Denis Shmygal on Tuesday stated that "more than US$700 billion" will be needed to repair the damage done to the country, US$300 billion less than the US$1 trillion figure given by President Vladimir Zelensky in December 2022.
While Zelensky's figure is about 150% more than the figures given by Kiev in June, the Prime Minister's figures is double the US$350 billion estimated at the aforementioned time.
On 30 Dec. 2022, the European Union gave its own estimate of EURO 600 billion (US$633 billion).
Also read; Building a Successful Business Organization: Lessons from the Bible
The competing claims come amid media reports alleging the growing willingness of some EU politicians to hand the frozen Russian assets to Kiev. The US and its G7 allies had seized some €300 billion ($311 billion) in reserves belonging to the Russian central bank, as well as billions in assets owned by blacklisted Russian businessmen.
Bloomberg reported on Tuesday that the German government was divided on the issue, but would be willing to support the confiscation on condition that legal issues were resolved and that other Western countries did the same.
Shymgal while speaking to the Ukrainian cabinet in Kiev, stated that together with the World Bank, Ukraine plans to conduct another verification of Ukraine's needs for a quick recovery.
UNIAN news agency reporting on the meeting, quoted the Prime Minister saying;
"Let me remind you that we had such an estimate at the beginning of June. Then the figure was $350 billion in damage. Given the latest attacks on our infrastructure, today this amount reaches more than $700 billion."
Speaking further, Shymgal stated that Kiev intends to use 17 billion hryvnia (US$426.6 million) already confiscated from Russian banks on rebuilding residences destroyed in the war with Russia. He stated that the money in question was already in a special account.
The figures quoted by the Prime Minister is again lower than the 28 billion hryvnias (US$765 million) quoted by President Zelensky in a statement at the beginning of August.
In December, President Zelensky stated that he had hired US asset management company BlackRock to "advise the Ukrainian government on how to structure the country's reconstruction funds."
Zelensky had held a video conference meeting with Larry Fink, CEO of one of the world's leading investment managers, BlackRock. BlackRock manages client assets worth about 8 trillion dollars.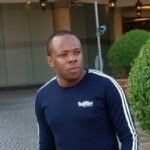 Nnamdi Maduakor is a Writer, Investor and Entrepreneur