In a bid to calm market nerves, UBS  (UBSG.S) will buy rival Swiss bank Credit Suisse  (CSGN.S) for US$3.23 billion and assume up to US$5.4 billion in losses.
Reuters reported that the deal engineered by the Switzerland authorities won applause from other central bankers keen to avoid further market-shaking turmoil.
Also read; List of Dividends announced in 2023, qualification and payment dates
Swiss regulators were forced to step in and orchestrate a deal to prevent a crisis of confidence in Credit Suisse spilling over into the broader financial system. The deal is expected to close by the end of 2023.
The announcement comes amid mounting concerns over the potential collapse of Credit Suisse creating a contagion in the banking sector. Credit Suisse saw its stock price plunge and deposit outflows continue last week despite receiving a $54 billion financial lifeline from the Swiss National Bank to bolster its liquidity.
Regulators faced a sense of urgency to push the deal through on Sunday before markets opened Monday as the specter of Credit Suisse potentially failing next week loomed over the negotiations.
Credit Suisse, which has been in business for 167 years, is one of 30 globally systemically important banks, which heightened worries about how global financial markets would react to its implosion.
Fox Business reported that although some terms of the agreement are yet to be announce publicly, the Swiss National Bank announced that it will provide liquidity to support the UBS takeover of Credit Suisse.
Both banks have access to existing lending facilities and may obtain an additional loan of up to 100 billion francs (or about $108 billion), while Credit Suisse can also tap a second liquidity assistance loan of that size that's backstopped by the Swiss federal government.
UBS Chair Colm Kelleher said during a press conference that it will wind down Credit Suisse's investment bank, which has thousands of employees worldwide. UBS said it expected annual cost savings of some $7 billion by 2027.
Credit Suisse shareholders will receive 1 UBS share for every 22.48 Credit Suisse shares held, equivalent to 0.76 Swiss francs per share for a total consideration of 3 billion francs, UBS said.
In a sign of a coordinated global response, the European Central Bank vowed to support euro zone banks with loans if needed, adding the Swiss rescue of Credit Suisse was "instrumental" for restoring calm.
"The euro area banking sector is resilient, with strong capital and liquidity positions," the ECB said. "In any case, our policy toolkit is fully equipped to provide liquidity support to the euro area financial system if needed and to preserve the smooth transmission of monetary policy."
U.S. Federal Reserve Chair Jerome Powell and Treasury Secretary Janet Yellen said they welcomed the announcement by the Swiss authorities to support financial stability.
The Bank of England welcomed moves by Swiss authorities to broker the takeover and said the British banking system was well-funded.
The Swiss banking marriage follows efforts in Europe and the United States to support the sector since the collapse of U.S. lenders Silicon Valley Bank and Signature Bank.
It was not yet clear if the deal is enough to restore trust in lenders around the world. The first indication could come when stock markets open in a few hours in Asia, Australia and New Zealand.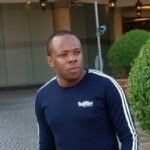 Nnamdi Maduakor is a Writer, Investor and Entrepreneur