The United States Government had sent a high-level delegation to meet with the "illegitimate" government of Venezuela on Saturday in a hunt for alternative suppliers of Oil as Russia's war with Ukraine continues.
According to a report quoted referenced on Fox News, several officials from the White House and State Department were on the flight to Caracas, making it the "highest-level visit" from the U.S. in the years after it broke diplomatic relations with the country in 2019 and recognized pro-US politician Juan Guaido as "interim" president of Venezuela over the legitimate President Nicolas Maduro.
In breaking diplomatic relations with Venezuela, the U.S. closed its embassy and accused President Nicolas Maduro of stealing a presidential election in 2018.
Read also; Britain's Shell buys Russian Oil at record discount, pledges profits to support humanitarian aid in Ukraine
Just a couple of months ago, on January 4 2022 to be precise, the U.S. State Department issued a statement recognizing Venezuela's 2015 National Assembly and Interim President Juan Guaido.
In recognizing an alternative President of Venzeula, U.S. State Department spokesperson Ned Price said;
The United States supports the Venezuelan people in their desire for a peaceful restoration of democracy through free and fair elections.  The Maduro regime's pattern of political repression, rampant human rights abuses, as well as severe restrictions on political and civil society actors and freedom of expression have robbed the Venezuelan people of democratic self-determination.  We support the efforts of the Unitary Platform and other actors to establish democratic order and rule of law in Venezuela.
The U.S. government has not officially confirmed that it sent a delegation to Venezuela, to meet with an illegitimate President Maduro. There are no commercial flights from the U.S. to Venezuela at the present, but data from flight-tracking website ADS-B Exchange showed a Gulfstream jet leaving a Washington airport and flying to Caracas via Miami on Saturday.
As pressure continues to mount on the Biden Administration to impose sanctions on Russian energy, the administration is actively seeking for alternative supplies, vis-a-viz Iran and Venezuela. Prior to U.S. sanctions on Venezuela, most of the Latin American countries oil exports went to the U.S.
Venezuela and its President Maduro are however aligned to Russia, as Russia along with China ad Iran came to Venezuela's financial aid when the Trump administration sanctions on Venezuela's oil exports in 2019.
Florida Senator Marco Rubio is being quoted as saying "Joe Biden using Russia as an excuse to do the del they always wanted to do anyway with the Maduro Regime."
Rather than produce more American oil he wants to replace the oil we buy from one murderous dictator with oil from another murderous dictator," – Marco Rubio
Venezuela has the world's largest oil reserves and used to be a major exporter, but it oil production collapsed in recent years from near 3mn barrels per day to less than 1mn. It is a member of the Organization of Petroleum Exporting Countries.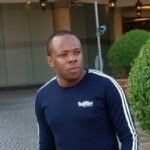 Nnamdi Maduakor is a Writer, Investor and Entrepreneur