Seplat Energy Plc (NGX: SEPLAT) will be paying its Shareholders a final dividend of US$0.025 (2.5 cents) for the 2021 financial year. This translates to N10.38 per ordinary share as per I&E FX Window rate as at Friday 22 February, 2022.
SEPLAT had paid dividend to its Shareholders in each quarter of the 2021 financial year;
This brings the total dividend declared for the 2021 financial year to US$0.10, which translates to N41.50.
The qualification date for the dividend will be 5th May. The Register of Shareholders will be closed on 6th May 2022, to enable Seplat's Registrar, Datamax Registrars Limited prepare for the final dividend.
The final dividend which is subject to appropriate withholding tax and shareholders' approval will be paid to shareholders whose name appear in the Register of Members as at the close of business on 5th May 2022.
On or around 25th May 2022, the final dividend will be paid electronically to shareholders whose names appear on the Register of Members as at 5th May 2022, and who have completed the e-dividend registration and mandated the Registrar to pay their final dividend directly into their Bank accounts.
The exchange rate for the Naira or Pounds Sterling amounts payable will be determined by reference to the relevant exchange rates applicable to the US dollar on 29th April 2022 and will be communicated by the Company on 5th May 2022.
Shareholders who are yet to complete the e-dividend registration are advised to download the Registrar's E-Dividend Mandate Activation Form, which is also available
on:http://www.datamaxregistrars.com/images/forms/seplate_emandate%20form.pdf, complete and submit to the Registrar or their respective Banks.
Holders of shares through depositary interests on the LSE should please provide their account details to the Company's UK depositary, Computershare.
Seplat Energy Plc is a leading indigenous Nigerian Energy company with a strategic focus on Nigeria, listed on both the Nigeria Exchange Limited and London Stock Exchange.
On 25th February 2022, Seplat Energy announced that it has entered into an agreement to acquire the entire share capita of Mobil Producing Nigeria Unlimited (MPNU) from Exxon Mobil Corporation Delaware.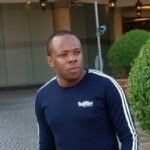 Nnamdi Maduakor is a Writer, Investor and Entrepreneur