Lagos State Governor, Mr Babajide Sanwo-Olu, on Monday commissioned the Orochiri-Worukwo (waterlines) flyover in Port Harcourt. The flyover is one of the many flyovers built by the Governor Nyesom Wike-led administration in Rivers State.
The waterlines flyover joins Garrison, GRA, Rumuola and Artillery flyovers built by the Wike administration on the Aba-Port Harcourt Expressway. Investogist correspondent who plied the highway after the flyover commissioning confirmed that the flyover has cut travel time between Ogbunabali and Rumuola junction to less than 5 minutes.
Also read; Court sets date to hear certificate forgery suit against Tinubu
Speaking at the commissioning ceremony, Mr. Babajide Sanwo-Olu, charged politicians, political leaders and public office holders across political and ideological divides to come together for the good of the people.
He said there are lots of things political leaders and public office holders can learn from one another's experience in different parts of the country if they embrace politics without bitterness.
Sanwo-Olu commended Wike for his strong commitment to the delivery of physical infrastructure in Rivers State, noting that the governor's effort has been recognised by all and sundry and has earned him the appellation of "Mr. Projects" within and outside Rivers State.
He also congratulated the people of Rivers State on the birth of the major piece of infrastructure that will, no doubt, positively change their lives, but also ultimately serve as the crucial springboard into more social and economic prosperity.
"Governor Nyesom Wike and I belong to different political persuasions, but this invitation today sends a very strong message, that we, as politicians and political leaders, can come together across political and ideological divides, for the good of our people.

"Infrastructure projects do not discriminate; they belong to everyone, regardless of your politics. They make life easier for all, regardless of who you voted for in the past or plan to vote for in the future.

"There is also a strong message being made today about expanding our capacity to play politics without bitterness. This symbolic gesture by my friend and brother is one that should become standard practice across Nigeria. There is also a lot that we can learn from one another, and experience that we can translate from one part of the country to the other.

"Because Lagos and Rivers share a number of similar contexts, it is imperative that we put a lot more work into creating institutional mechanisms for comparing notes and learning from each other, with regards to solving the challenges of urban planning, transportation, climate change, security, revenue generation, business climate and others.

"Ultimately, we are all in governance to touch the lives of the people for good; to deliver to them the dividends of democracy. There is no doubt that Governor Wike has spent his last seven years focused on this; just as we have similarly been doing in Lagos," Sanwo-Olu said.
The flag-off of construction of the 800 meter long flyover, with 8 lanes and a robust flood-control system and underground drainage was done on Saturday, 6th March 2021. The flyover was designed and built by Julius Berger Nigeria Plc, at a cost of N6.2 billion.
Governor Wike has now built and commissioned 9 flyovers in Port Harcourt, with one under construction and another two; flyovers 11 and 12 awarded to Julius Berger in July. The two new flyovers also awarded to Julius Berger will be located at Rumuokuta/Ikwerre Road Junction and NTA-Choba Road in Obio-Akpor Local Government Area, and expected to be completed within the next 10 months.
Some of the flyovers already completed and commissioned are Okoro-Nu-Odo, Rumuogba 1 and 2, Rumuola, Oro-Abali, GRA, Nkpolu-Oroworukwo, Orochiri-Worukwo (Waterlines), and Rumukalagbor Flyovers.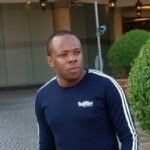 Nnamdi Maduakor is a Writer, Investor and Entrepreneur