President Paul Kagame of Rwanda has announced that he will run for a fourth term in next year's election.
Kagame, who won a third term in 2017 with nearly 99 percent of the vote, made the announcement in an interview with Jeune Afrique, a French-language new magazine.
Also read; Mass shootings in USA surpass 500 this year – Report
"I am happy with the confidence Rwandans have shown in me. I will always serve them as long as I can. Yes, I am indeed a candidate," 65 years old Kagame, was quoted as to saying in the interview published on Tuesday.
The Rwandan government had in March, synchronized the dates of its legislative and presidential elections, due to take place in August 2024.
This is the first time Kagame has openly expressed his intentions to run for a fourth time, but he has made constitutional amendments that have enabled him to serve a third term and could allow him to govern until 2034.
A former rebel chief, Kagame has been regarded as the country's de facto leader since the end of the 1994 genocide.
He was returned to power – with over 90% of the vote – in the 2003, 2010, and 2017 elections.
The only other candidate so far in the presidential race is lawmaker Frank Habineza of the Green Democratic party.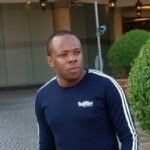 Nnamdi Maduakor is a Writer, Investor and Entrepreneur