The Gun violence Archive (GVA), an online archive of gun violence, has reported that the number of mass shootings in the US surpassed the 500 mark over the weekend, which averages to almost two mass shootings a day.
Also read; Nine Appeal Court Justices to be sworn in Chief Justice of Nigeria
On Sunday, the Denver Police Department posted an alert on X (formerly Twitter) confirming a shooting that left five people injured, which was the 500th incident of the year.
Just hours later, El Paso police reported that they were investigating an early morning shooting in East El Paso which claimed the life of a 19-year-old man and left five more injured, bringing the total number of mass shootings to 501.
The Gun Violence Archive is an online archive of gun violence incidents collected from over 7,500  law enforcement, media, government and commercial sources daily in an effort to provide near-real time data about the results of gun violence.
According to data published on GVA's website, as at 18 September, 2023, and the time of this report, there has been 504 mass shootings in USA, and 30 mass murders.
There has been a total of 30,942 gun violence deaths, 17,226 of which was reported at suicides while homicide/murder/unintentional/DGU accounted for 13,716. deaths.
GVA data shows that 219 children between the ages of 0-11 have died from gun violence, while1,042 teenagers between the ages of 12-17 have died from gun violence.
GVA defines a mass shooting as an incident n which four or more people are shot and either injured or killed, not including the shooter.
The U.S. Federal Bureau of Investigation (FBI), defines it as an event in which one or more individuals are "actively engaged in killing or attempting to kill people in a populated area.
U.S federal law defines mass murder as the the killing of three or more people (that is not legally justified or excusable) in a single incident at a single location.
2021 had the highest number of mass shootings in US history, with 689 reported incidents, and while the numbers fell to 647 in 2022, FBI data showed a higher number of casualties.
Recently, the National Center for Education Statistics (NCES) released its annual crime and safety report, which revealed 188 school shootings with casualties in the 2021-22 school year, more than twice the number of incidents documented a year before.
Mass shootings have been on the rise in the last decade; 273 incidents were reported in 2014.
A study published by the Annals of Internal Medicine in February indicates that gun ownership has grown in recent years, with 7.5 million US adults becoming new gun owners between January 2019 and April 2021.
The Second Amendment to the US Constitution guarantees the right to bear arms, and around a third of US adults say they personally own a gun. However, a poll conducted by Gallup in October 2022 reveals that the majority of Americans are in favor of gun control, with 57% supporting stricter gun laws.
The Gun Violence Archive [GVA] was established in Fall of 2013 as an independent research and data collection organization to provide comprehensive data for the national conversation regarding gun violence.
The mission has since expanded to also document the tens of thousands of gun related injuries and other gun crime.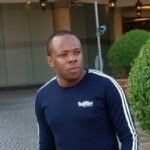 Nnamdi Maduakor is a Writer, Investor and Entrepreneur