Prestige Assurance Plc has announced that, its proposed rights issue of 13,635,796,006 ordinary shares of 50 kobo, on the basis of thirty-eight (38) new ordinary shares for fifteen (15) ordinary shares held, is open for subscription.
According to the market bulletin dated 10 August 2020, and signed by Lilian Dako for Head, Listings Regulation Department, the thirteen billion, six hundred and thirty-five million, seven hundred and ninety-six thousand, and six (13,635,796,006) ordinary shares of 50 Kobo, is offered at each at 50 Kobo per share to shareholders, for shares held as at 31 January 2020.
Acceptance list opened on Monday, 10 August 2020 and will be closed on Thursday 17 September 2020.
Have you read?
Prestige had issued Bonus shares in the ratio of 2 new shares for every 11 existing shares held by existing shareholders whose name appear on the Register of Members at the close of business on 19th June 2020.
The share price of Prestige has remained unchanged at N0.50 per share since 29 July 2020. However, it has lost 10.00% of its value on the floor of the exchange, at the time of this report. The share price currently stood at N0.45 per share.
The highlights of Prestige H1 2020 financial statement is shown below;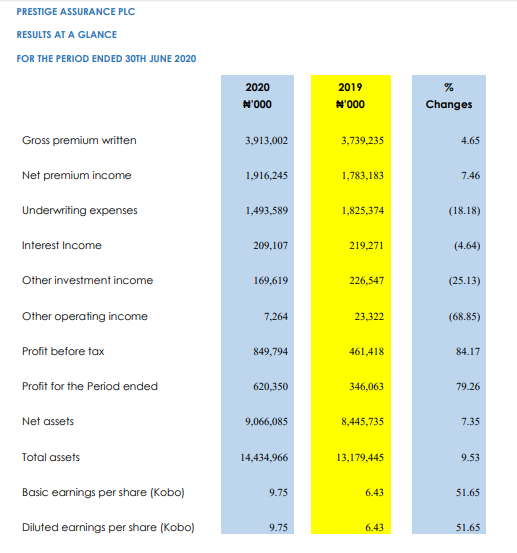 Written by