As the world grapple with Covid-19 pandemic and its grilling economic impact, Fitch Ratings' new interactive country-by-country map of bank rating trends shows that the balance of Outlooks globally has turned sharply negative since the start of the pandemic.
The proportion of bank ratings on Negative Outlook or Rating Watch Negative (RWN) jumped to over 60% at end H1 2020 from 13% at end-2019, according to Fitch Ratings. The percentage of banks on RWN was the highest in recent years, reflecting near-term risks to many banks' ratings. There were virtually no ratings on Positive Outlook or Rating Watch Positive.
According to Fitch report, the proportion of Negative Outlook is lower in emerging markets at 54% compared to 73% in developed markets. However, Latin America's (emerging market) has a 87% ratings on Negative Outlook at the end of H1 2020, a massive increase from 31% recorded at the end of 2019, due to deteriorating operating environments and sovereign rating actions.
Have you read?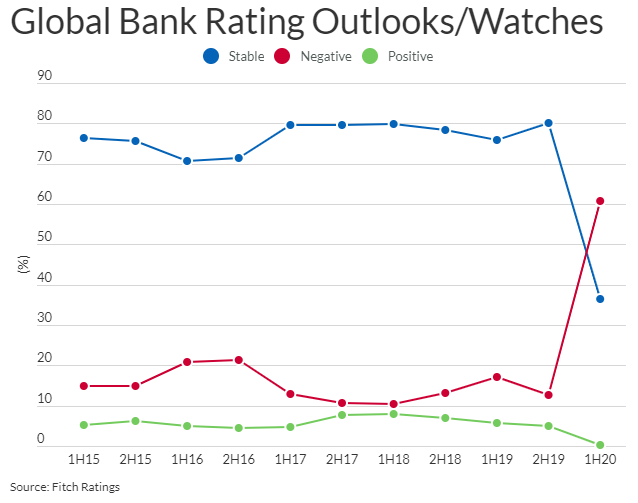 Developed markets in Europe has the second-highest proportion of Negative Outlooks at 22%, according to Fitch. European banks has been battling with profitability, pre-pandemic, which are "likely exacerbated by the economic fallout from the pandemic, many of these banks entered the crisis with limited headroom at their rating level."
The lowest proportion of banks on Negative Outlook were found in Asia-Pacific (27%). This is because Fitch Ratings takes into account the greater prevalence of external support – mostly sovereign support that would be forthcoming, if needed.
Globally,109 banks were downgraded with only nine upgraded in H1 2020. Downgrades were recorded mostly in emerging markets in
The Americas – 34
European developed markets – 25
Middle East and Africa – 21
Nigeria – 3
It is important to that the Fitch report did not specially talk about state of banks in Africa. Although it pointed out that about 20% of bank downgrades were in Emerging Markets in Middle East and Africa
Fitch placed 10 Negative Outlook/Negative Watch on Nigerian banks during the first half of the year, three out of the ten was as a result of downgrade.
Written by
Ifunanya Ikueze