A global reserve currency based on a currency basket of the five-nation BRICS bloc is under development according to Russian President, Vladimir Putin.
Speaking at the BRICS business forum on Wednesday, Putin said that the BRICS countries – Brazil, Russia, India, China, and South Africa – are currently working on setting up a new global reserve currency.
"The issue of creating an international reserve currency based on a basket of currencies of our countries is being worked out," he said.
According to the Russian president, the member states are also developing reliable alternative mechanisms for international payments.
Have you read? Peter Obi meets Wike behind closed doors in Rivers
In a greetings message to BRICS Business Forum participants, the President reminded the participants that the BRICS countries are home to more than 3 billion people, and together account for about a quarter of the global GDP, 20% of trade and roughly 25% of direct investments, while the total international reserves of the BRICS countries (as at the beginning of 2022) amount to about 35% of world reserves.
The BRICS Business Forum is one of the key events organized by the BRICS Business Council traditionally on the eve of the BRICS Summit. This year's forum is being hosted by the People's Republic of China.
Early in 2021, the BRICS said it was working on setting up a joint payment network to cut reliance on the Western financial system.
The joint new payment system called BRICS pay was to create a special online wallet to integrate the payment systems of its five member states. Russia's wealth fund (Russian Direct Investment Fund RDIF) has been working on the project alongside its partners from China and India, who have the necessary technologies to launch the system.
The service will be similar to existing Apple Pay and Samsung Pay, allowing users to pay with a smartphone app no matter what currency the customer's account is linked to. A special cloud platform is to be created to link BRICS countries' national payment systems.
The BRICS countries have been also boosting the use of local currencies in mutual trade.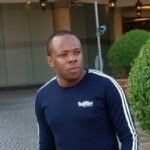 Nnamdi Maduakor is a Writer, Investor and Entrepreneur