It has been several months since the Russian Defence Ministry claimed it found documents in Ukraine which showed that Ukrainian biological laboratories partnered with the US in research involving dangerous pathogens, such as plague and anthrax. The US State Department has now released a statement explaining the purpose of its biological programs abroad.
In a statement released on Monday, 29th August 2022, in conjunction with its international partners, it said the partnerships protect the health of humans and animals.
Read also; Who is funding the 2nd Niger Bridge – Part 1
The statement sighted by Investogist was jointly released by the Governments of the United States of America, Armenia, Georgia, Iraq, Jordan, Liberia, Philippines, Sierra Leone, Uganda, and Ukraine.
The statement in full reads;

The COVID-19 pandemic has underscored the importance of strong national capacities for infectious disease surveillance, diagnosis, and response. International cooperation and assistance play a critical role in building these capacities. Our governments have partnered openly and transparently through the Biological Threat Reduction Program, which is a part of the U.S. Department of Defense Cooperative Threat Reduction Program.

These partnerships are devoted exclusively to peaceful purposes; they have nothing to do with weapons. These partnerships protect the health of humans and animals in our countries, including in the prevention, detection, and control of infectious disease outbreaks, and in enhancing laboratory biosafety and biosecurity.

As partners in this program, we each have firsthand knowledge of its relevance to our shared goal of cooperating to strengthen global health security and reduce the impacts of infectious diseases on our societies. Our governments strongly affirm the common view that such cooperation should not be undermined, but rather promoted and reinforced.

Pursuant to Article X, we encourage all Biological Weapons Convention States Parties to work together, including at the forthcoming Review Conference, in support of this goal.
On 11 May, 2022, barely a month after Russia's President Putin said that Russia has evidence that laboratories in Ukraine were used to develop "components of biological weapons," the US Department of Defense released a Fact Sheet on its Cooperative Threat Reduction Program – Biological threat reduction program activities in Ukraine.
The fact sheet stated that the United States, through BTRP, has invested approximately $200 million in Ukraine since 2005, supporting 46 Ukrainian laboratories, health facilities, and diagnostic sites.
It claims that BTRP has improved Ukraine's biological safety, security and surveillance for both human and animal health.
The fact sheet went on to state that the Department of Defense Cooperative Threat Reduction Program began its biological work in Ukraine to reduce the risk posed by the former Soviet Union's illegal biological weapons program, which it claimed left Soviet successor states with unsecured biological materials after the fall of the USSR.
The US Department of Defense argued in the fact sheet, that it's program partners with Ukraine's Ministry of Health and Ministry of Agriculture's State Committee of Veterinary Medicine and National Academy of Agrarian Sciences and has a limited engagement with Ukraine's Ministry of Defense and is confined to providing mobile diagnostic laboratories to providing on-the-ground assistance in a public health emergency.
The fact sheet acknowledged that Russia illegally took possession of two Ukrainian-owned laboratories that BTRP upgraded in 2014.U
Ukrainian President Vladimir Zelensky has denied that Kiev was developing any weapons of mass destruction and said the laboratories were only conducting "ordinary" scientific research.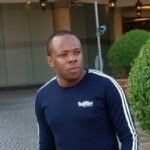 Nnamdi Maduakor is a Writer, Investor and Entrepreneur