The value of the Nigerian naira tumbled further on Saturday at the parallel market to N500/$1, lowest in years. The crash is coming amid reports that the Central Bank of Nigeria (CBN) had devalued the naira for the third time in 2020.
On Saturday, the naira value declined by N5 against the dollar to exchange at the rate of N500/$1 at the parallel market, compared to N495/$1 it exchanged on Friday, according to Aboki FX – a prominent FX tracking website at the black market.
Naira value had appeared to be stable against the dollar on Friday having maintained the same rate as Thursday.
Read: Fidelity Bank commences audit of 2020 Annual Financial Statements and closed period
The exchange rate against British Pounds (£) and Euro (€) settled at N645/£1 and N580/€1 respectively at the parallel market.
Devaluation
Several news media in Nigeria including Nairametrics reported that "the CBN has devalued the exchange rate between the dollar and naira sold to the BDC's to N390/$1. Nairametrics cited a circular which it said, "also mandates the BDCs to sell to potential buyers at N392/$1 for the period Monday, November 30th to Friday, December 14, 2020."
However, there has not been an update in this regard on the CBN website as the official rate at the website still reads N379/$1.
Also, at the FMDQ, the official rate of naira against the stills reads N379/$1.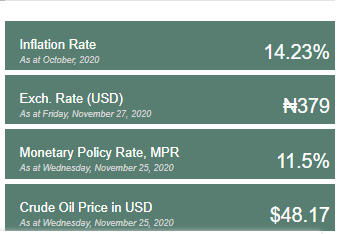 Source: CBN
At the NAFEX naira exchanged as high as N400.37/$1 on Friday, according to the data available on FMDQ. However, the closing rate at the window settled at N390.25/$1.
At the future market, naira stood at N591.96/$1 for the five-year settlement due in September 2025 at the FMDQ, whereas the December 2024 settlement stood at N555.48/$1.
Read also: Professional Services Sector generated the highest Company Income Tax in Q3 2020- NBS
The exchange rate between the official window and the Black market has widened tremendously following the fall in oil prices which is the main source of the nation's foreign exchange.
The Finance Minister Zainab Ahmed on Friday said that the government was concerned about the exchange rate gap between the black and official markets.
"We have been trying to take measures to close the gap and the progress is not as much as we hope," Ahmed told Bloomberg Television. "The reason why we have the gap is because of the decline in the revenues from the oil and gas industry."
On the other, the CBN Governor Godwin Emefiele dismissed the black market rate earlier in the week after the MPC meeting saying that the parallel market rate should not be used as the true measure of the value of the naira. He said that "the foreign exchange rate in Nigeria is determined by the forces of supply and demand in the Nigeria Autonomous Foreign Exchange Market (NAFEX) window."
BY: Ifunanya Ikueze